If you're in search of a no-frills, low APR credit card, look no further. The Astoria Bank Platinum Edition Visa Credit Card offers a very competitive interest rate and boasts some advantageous introductory benefits for cardholders. Successful applicants will enjoy a 0% introductory APR on balance transfers for the first 12 billing cycles, with a decreased balance transfer fee of 3% of the transaction amount (or $10, whichever is greater). After the initial decreased APR, the rate will increase to somewhere between 10.24% and 18.24% (APR is subject to change). The Astoria Bank Platinum Edition Visa Credit Card purchases APR is the same as the balance transfer rate (after the introductory rate). There is no rewards program attached to this credit card but a $25 statement credit is awarded after making your first purchase (within the first 3 billing cycles). Cardholders will also enjoy paying $0 in annual fees. Should you be interested in applying for the Astoria Bank Platinum Edition Visa Credit Card, scroll down and follow our step-by-step instructions below to apply for yours today.
Take a look at First Bankcard's (the card-issuing company) privacy policy to learn what they will do with the personal and financial information you provide in the application form.
Requirements
In order to be eligible for this card, you must meet the following criteria:
Applicants must be at least 18 years of age
Applicants must reside in the United States
Applicants must have a valid SSN
How to Apply
Step 1 – To begin the application process, navigate to the Astoria Bank consumer credit card page. Scroll down to the second card on the list and click on the image of the Astoria Bank Platinum Edition Visa Credit Card. If a notice pops up warning you that you will be leaving Astoria Bank's website and proceeding to a third party website, it is safe to continue.

Step 2 – The first section of the application form asks that you provide the following personal information:
Name
Physical address
Home phone number
Email address

Step 3 – To further identify you, First Bankcard needs you to provide your Date of Birth, Social Security Number and Mother's Maiden Name.

Step 4 – Next, enter the number of years you've lived in your current home and tick the selection that applies to you under Housing Status. After that, provide the amount of your Monthly Housing Payment.

Step 5 – At this juncture, you are asked to provide some financial information including Present Employer, Business Phone Number (optional) and Total Annual Income. You are also given the option to enter the monetary amount you currently have in your Checking Account, Savings Account and Investment Account. This is not necessary; however, it will give First Bankcard a better understanding of your current financial state.

Step 6 – The last two sections of the application form are optional. At this point in the process, you may choose to make a balance transfer and/or add an authorized user to the account. To make a balance transfer, click the link within the Balance Transfer section to add up to 3 balance transfers. You will need to provide the creditor's name, the account number, the amount and the payment address. To add an additional cardholder to the account, provide their full name in the spaces provided within the Authorized User section. Click Continue once you have completed this step.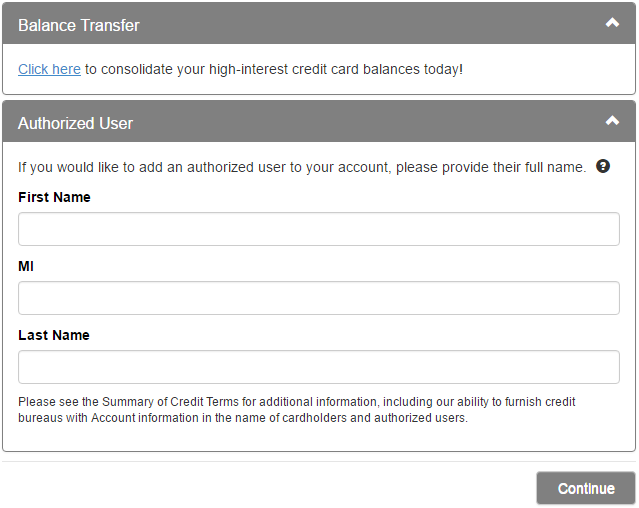 Step 7 – Finally, you have arrived to the terms and conditions section. Read through them carefully and, when you're ready, click Submit.

Your submission will now be sent to First Bankcard for review. We hope these instructions have been easy to follow and we hope they have helped you get approved for the Astoria Bank Platinum Edition Visa Credit Card.