For small business owners, it's important to have a credit card that can help you save money while making money. With a reasonably low interest rate, an excellent rewards program, and no annual fee, the Astoria Bank Business Absolute Rewards Visa Credit Card is a solid option. Cardholders will enjoy a 0% introductory APR on purchases and balance transfers (balance transfer fees will still apply) for the first 6 billing cycles. Once this introductory period expires, the APR will increase to either 13.24% (for those with excellent credit score). Otherwise, the APR will be 15.24% or as high as 20.24%, depending on the strength of your credit score (APR is subject to change). The rewards program this card offers works like this: users earn 5 points per $1 spent on qualifying business expenses, 2 points per $1 spent on qualifying gas and dining purchases and 1 point per $1 spent on all other purchases. Take note that once $25,000 has been spent on business expenses (earning users 5 points per $1) within 12 billing cycles, the cardholder only earns 1 point per $1. The same rule is applied for gas and dining purchases. Fortunately there is still plenty of time with which to rack up points as cardholders are given 3 years before they expire. Rewards can be redeemed for travel purchases, gift cards, merchandise or cash back as a statement credit. If you think the Astoria Bank Business Absolute Rewards Visa Credit Card is the right choice for you, apply today by following our short tutorial posted below.
Read through First Bankcard's privacy policy before divulging any information of a personal or financial nature.
Requirements
To be eligible for this credit card you must meet the following requirements:
Applicants must be 18 years of age or older
Applicants must have a valid Social Security number
Applicants must have a valid Tax ID number
Applicants must have a valid US business address
Applicants must have a valid DUNS number
How to Apply
Step 1 – The first step of the application process is to navigate to the Astoria Bank business credit card page. From there you have a list of credit cards to choose from; click on the image of the Astoria Bank Business Absolute Rewards Visa Credit Card to proceed. If you get a notice stating that you are navigating away from the Astoria Bank website, it is safe to continue.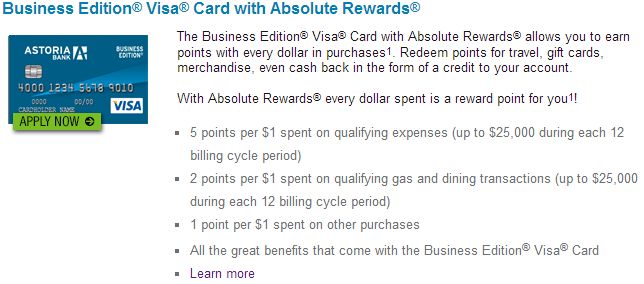 Step 2 – Next, you have to click the Apply Now button on the left side of the screen. This will take you to the application form.

Step 3 – The first section of the application form asks for the following information:
Business legal name
Tax ID number
Phone number
Physical address
Company name displayed on card
DUNS number
Company legal structure
Line of business

Step 4 – Next, if you have an alternate mailing address (different than the company address), you may enter it now. If it is the same as the address you provided in the section above, tick the box marked Same as Company Physical Address.

Step 5 – This section is not necessary to fill out; however, it will provide more information for First Bankcard to review your application. To give First Bankcard a Financial Reference, enter your Bank Name, Checking Account Balance, Bank Contact and Phone Number. Skip this section if you do not wish to provide this information.

Step 6 – This part of the application demands that you provide information on the Authorized Company Representative. Enter the following information pertaining to the guarantor for the business account:
Full name
Social Security number
Physical home address (if different from company physical address)
Date of birth
Home phone number
Authorized representative title
Annual personal income
Years at current position
Estimated annual spend
Email address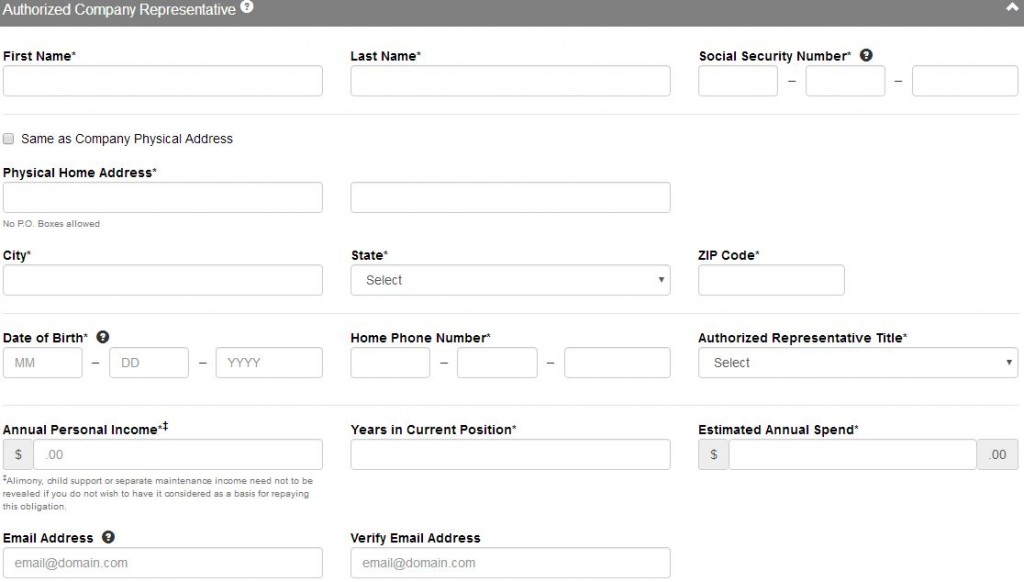 Step 7 – At this juncture, you are given the option to provide additional cards to your employees (up to 5 additional cards). Enter the employees First Name, Last Name and their Employee ID or Last Four SSN. If you don't want other users on the account, skip this step and click Continue.

Step 8 – The application process is almost complete. All you have to do is review the information you have entered and read through the terms and conditions. Tick the box at the bottom of the page stating that you accept these terms, then click Submit.

Well done! You've successfully applied for the Astoria Bank Business Absolute Rewards Visa Credit Card! Hopefully this tutorial helped you get through this application process as painlessly as possible. Good luck on your approval!