If you're looking for a credit card that offers a competitive APR and an excellent rewards program, look no further. The Apple Bank Visa Business Absolute Rewards Credit Card is a practical and beneficial option for small business owners. This credit card offers a 0% introductory APR for the first 6 billing cycles on purchases and balance transfers. After the introductory period expires, an APR of 13.24%, 15.24% or 20.24% will apply (APR is subject to change). For a business rewards credit card, 13.24% is a great interest rate. Take note that only cardholders with excellent creditworthiness will be offered the lowest interest rate. The rewards program attached to this card works like this: cardholders earn 5 points for every $1 spent on qualifying business expenses, 2 points per $1 spent on gas and dining transactions, and 1 point per $1 spent on all other purchases. These rewards expire after 3 years from when they are awarded and can be redeemed for travel, gift cards, merchandise or cash back as a statement credit. It should be noted that the higher rewards opportunities are only viable on the first $25,000 spent each 12 billing cycles, after which the standard 1 point/$1 spent will be applied. There is still plenty of opportunity to rack up points while making business expenditures you would ordinarily make without earning points.If you like the sound of the Apple Bank Visa Business Absolute Rewards Credit Card, apply for yours today by following our short tutorial below.
Before submitting any personal or financial information into the application form, read through First Bankcard's (the card-issuing company) privacy policy.
Requirements
To be eligible for this credit card, you must meet the following requirements:
Applicants must be 18 years of age or older
Applicants must have a valid U.S. address
Applicants must have a valid Social Security number
Applicants must have a valid Tax ID number
How to Apply
Step 1 – You need to navigate to the First Bankcard Apple Bank business credit card page in order to begin. Once the page loads, locate the Apple Bank Visa Business Absolute Rewards Credit Card and click the Apply Now button on the right, as shown below.

Step 2 – The first section of the application form asks that you submit the following information pertaining to your business:
Business legal name
Tax ID number
Phone number
Physical address
Company name displayed on card
DUNS number (not required)
Company legal structure
Line of Business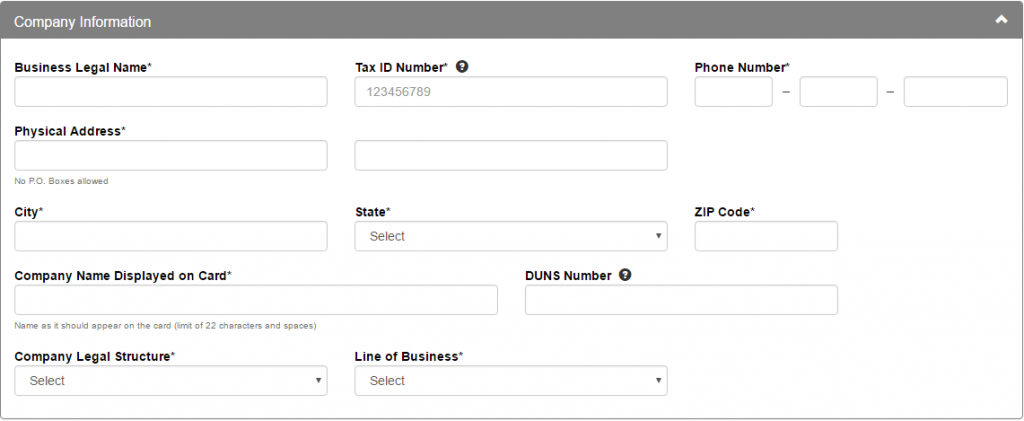 Step 3 – The next section is only to be filled out if the mailing address of your business is the same as your company's physical address. If they are one in the same, tick the box next to Same as Company Physical Address.

Step 4 – First Bankcard presents the option of providing information on your company's bank. This is only optional but will improve First Bankcards assessment of your application. If you wish to complete this section, enter your Bank Name, Checking Account Balance, Bank Contact, and Phone Number.

Step 5 – Next, you are required to provide the following information concerning the Authorized Company Representative:
First name
Last name
Social Security number
Physical address
Date of birth
Home phone number
Authorized representative title
Annual personal income
Years in current position
Estimate annual spend
Email address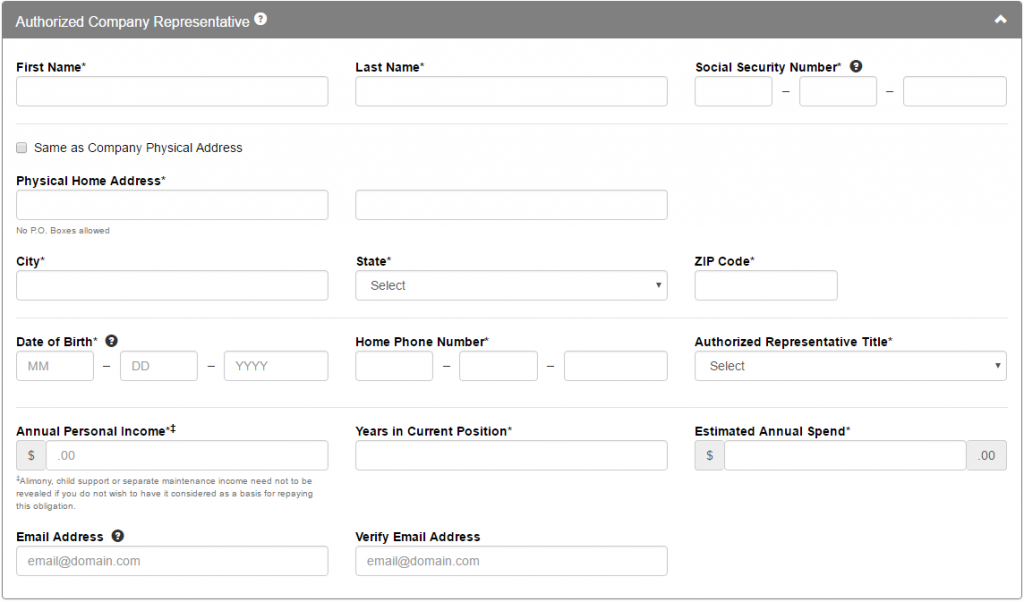 Step 6 – This last section offers the opportunity to add authorized users to the account. It is not mandatory but, if you would like to acquire additional employee cards, you may do so by providing the First Name, Last Name, and Employee ID or Last Four SSN of up to 5 employees. Click Continue to proceed to the last step.

Step 7 – Finally, read over your application form and read through the terms and conditions. Select the box at the bottom declaring you have read and accepted these terms and click Submit.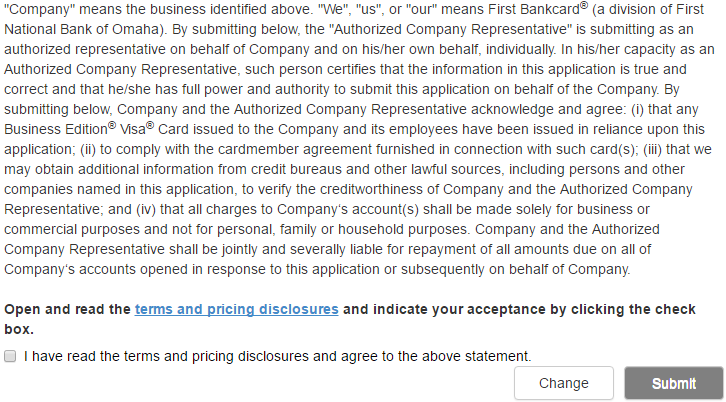 We hope this tutorial helped guide you through the application process with as little pain as possible. Best of luck!