Are you looking for a business credit card with an extensive rewards program? If so, the American Savings Bank Business Edition Visa Card with Absolute Rewards may be the credit option for you. The rewards program for this business Visa offers cardholders 5 points for every dollar spent on qualifying business expenses and 2 points per dollar spent on qualifying gas and dining transactions (this increased reward program is applicable only for the first $25,000 spent per 12 billing cycles, after which the standard point/dollar will apply). On all other purchases cardholders receive 1 point per dollar spent. Your points can be redeemed for travel, gift cards, merchandise, and cash back. This generous rewards program comes with no additional annual fee, and your APR will be assigned at a reasonable rate of 13.24%, 15.24% or 20.24%, depending on what your credit score is going into the application (APR is subject to change). New customers also enjoy a 0% introductory APR on all purchases and balance transfers for the first 6 billing cycles from the time your account is opened. Would you like to apply for the American Savings Bank Business Edition Visa Card with Absolute Rewards? Scroll down and follow our below guide on how to apply online today.
This card is issued by First Bankcard (a division of the First Bank of Omaha). Before submitting your personal and financial information on their website, we recommend that you read through their privacy policy.
Requirements
Applicants must meet the following requirements to be eligible for this credit card:
Be at least 18 years of age
Have a valid SSN
Have a valid Tax ID #
Have a valid US mailing address
How to Apply
Step 1 – To access your online application, go to the page pictured below by following this link. Locate Business Edition Visa Card with Absolute Rewards and click the Apply Now link found just beneath the heading.
Step 2 – Having been redirected to the application form, hosted by First Bankcard, begin by providing the information listed below into the Company Information section.
Business legal name
Tax ID #
Phone number
Complete physical address (including city, state and ZIP code)
Company name to be displayed on card
DUNS number
Company legal structure
Line of business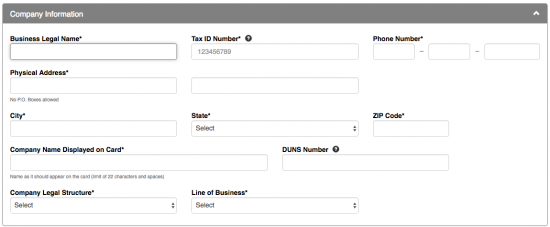 Step 3 – If your company mailing address is different from the physical address, provide the complete Mailing Address as indicated. If the company mailing address is the same, check the box marked Same as Company Physical Address.

Step 4 – At this juncture you will be asked to provide the following business banking account information:
Bank name
Checking account balance
Bank contact
Phone number

Step 5 – As the Authorized Company Representative applying for this credit card, you must now supply the following personal and financial information:
Full name
SSN
Complete home address (including city, state and ZIP code)
Date of birth
Home phone number
Job title
Annual personal income
Years in current position
Estimated annual spend
Email address (optional)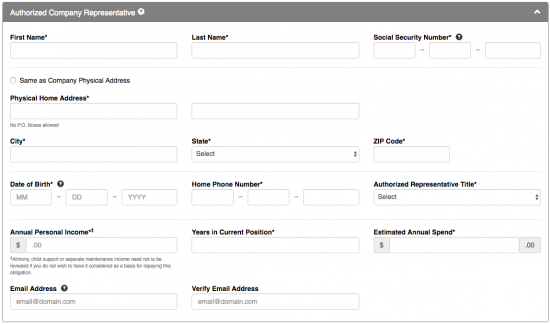 Step 6 – Here, if you need to add additional employee cards, you can do so by supplying the First Name, Last Name and Employee ID or Last Four [digits of their] SSN for each employee, and clicking Add. When you are ready, click Continue to proceed to the last step.

Step 7 – On the final page of your application, you will be able to review a summary of all of the information that you have entered. Having looked over your application, read through the terms and conditions for this credit card and agree to them by checking the little box at the bottom of the form. Click Submit when you are ready to proceed.

Assuming that you have followed all of the steps outlined above, your application has been submitted for review! We wish you the best of luck with the result of your submission and we hope that our guide has assisted you in quickly completing your application. Thank you for visiting CardReviews.org.