If you're in need of a business credit card, but you're looking to rebuild a damaged credit-score, you may need to apply for a secured credit option. One such secured business credit card is the American Savings Bank Business Edition Visa Card Secured Card. By making a security deposit of an amount between $2,200 and $110,000, you will set your credit limit of a value 10% less than your deposit amount. In doing so, if your account is past due, the bank has the right to draw from this security deposit and, in turn, leave your credit score unaffected. For the privilege of being able to make purchases with this Visa card, you will be required to pay an annual fee of $39, as well as an 18.24% APR on purchases (APR is subject to change). To apply for the American Savings Bank Business Edition Visa Card Secured Card, scroll down and follow our guide on how to complete the online application form.
Before you submit your personal and financial information, we recommend that you read the First Bankcard (the card-issuer) privacy policy.
Requirements
You must meet the following requirements to be eligible for this credit card:
Be at least 18 years of age
Have a valid SSN
Have a valid Tax ID #
Have a valid US mailing address
How to Apply
Step 1 – To begin the application process, navigate to American Savings Bank's business credit card summary page (pictured below) and click the Apply Now link beneath Business Secured Visa Card. Please note, this action will redirect you to the application page hosted by the card-issuer, First Bankcard.
Step 2 – Having been redirected to the application form, enter the following Company Information into the indicated fields:
Business legal name
Tax ID #
Phone number
Complete physical address (including city, state and ZIP code)
Company name to be displayed on card
DUNS number
Company legal structure
Line of business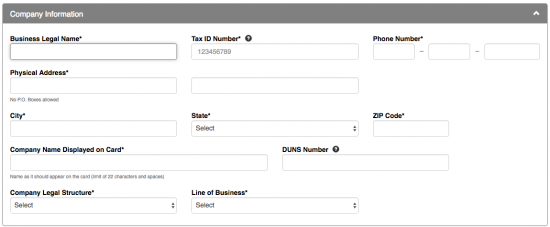 Step 3 – If your company's mailing address is the same as your physical address, tick the little box at the top of the Mailing Address window. If not, you will need to supply the Mailing Address, City, State, and ZIP Code of your company before continuing.

Step 4 – Next, you will be asked to enter the following information regarding your business banking account into the Financial Reference section:
Bank name
Checking account balance
Bank contact
Phone number

Step 5 – In the Authorized Company Representative section, you will need to supply all of the personal and financial information that is listed below.
Full name
SSN
Complete home address (including city, state and ZIP code)
Date of birth
Home phone number
Job title
Annual personal income
Years in current position
Estimated annual spend
Email address (optional)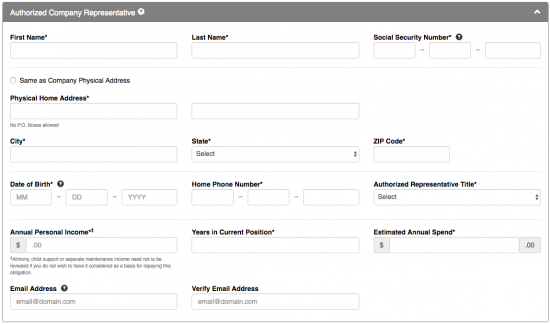 Step 6 – Because you are applying for the secured credit option, you will need to enter the following information to make your security deposit and set your credit limit:
Deposit amount
Account type
Account number
Routing number
Below that, you must read the three points of certification that you will be agreeing to by continuing with your application. If you are the subject of backup withholding by the IRS, you will need to tick the little box in the second point of certification.
Step 7 – In this step, you may add additional employee cards, by entering the First Name, Last Name, and Employee ID or Last Four [digits of their] SSN for each employee and clicking Add. Click Continue to go to the next page.

Step 8 – Review your application and read the terms and conditions for the American Savings Bank Business Edition Visa Card Secured Card. If you agree to the terms, tick the little box that indicates this is the case. When you are ready to submit your application, click Submit.

Having successfully followed the above steps, you have now completed the application process and submitted your credit card application for review. We trust that your application will be accepted and hope that our guide has been of service to you today. Thank you for visiting us at Card Reviews!