The American Savings Bank Secured Visa Card is a credit option that should interest those who are looking to build their credit rating. The way this card works is slightly different than your typical credit card as a security deposit will be required when you apply. Your deposit can be anywhere from $300 to $5,000 and will directly effect your overall credit limit. In other words, whatever amount you end up supplying as your deposit will be the maximum amount you can draw from your card. You can expect your purchase APR to be set at 20.24%, which is fairly high by most standards (APR is subject to change). However, as this card is catered towards individuals with lower credit ratings, the high interest rate is as fitting as the $19 annual fee (the other American Savings Bank Visa cards have no annual fee). If you maintain your credit card properly by paying off your balance on time, you may qualify for an unsecured Visa card in as little as 11 months and have your security deposit returned in full. If you'd like to find out how you can apply, scroll down to our tutorial below.
This credit card has been issued by First Bankcard. Take a moment to review their privacy policy before proceeding to learn how the personal information you supply will be used.
Requirements
The requirements that must be met in order for you to be eligible for this card are as follows:
You are at least 18 years of age
You have a valid US address
You have a valid SSN or ITIN
How to Apply
Step 1- Click here to access the application webpage for the American Savings Bank Secured Visa Card. You should see the Get Started menu on the right side of your screen. Click on the Apply Now link to proceed.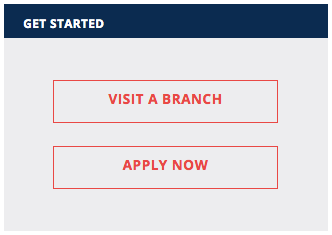 Step 2- In the window which pops up, simply click I Accept to continue with your card application.
Step 3- This page will require you to supply a few different pieces of personal information. The exact data that's asked of you is as follows:
First name
Last name
Street address
City
State
Zip code
Home phone number
Email address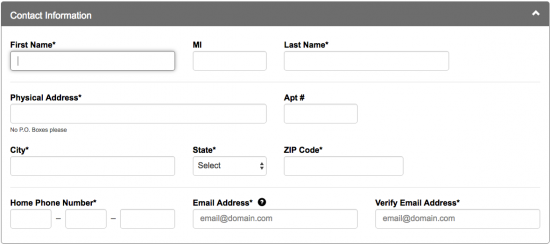 Step 4- Continue by supplying your Date of Birth, Social Security Number and your Mother's Maiden Name. Just below that, under Housing Information, provide your Years at Address, indicate your Housing Status and enter your Monthly Housing Payment.
Step 5- Next, some details regarding your Financial Information must be supplied. In the empty fields, supply your Present Employer, Business Phone Number, Total Annual Income, and the total amounts in your Checking Account, Savings Account, and Investment Account.

Step 6- If you'd like to add an authorized user to your account, enter-in the First Name, Middle Initial and the Last Name of the authorized person.

Step 7- At this juncture, you are asked to provide your Secured Card Deposit Information. The number you supply under Amount will be taken from your bank account as a security deposit. This number will also determine your credit limit. Continue by specifying your Account Type and enter-in your Routing Number and Account Number. To verify your account details, you are asked to re-enter your routing and account number in the bottom two fields. Click Continue once the requisite information has been supplied.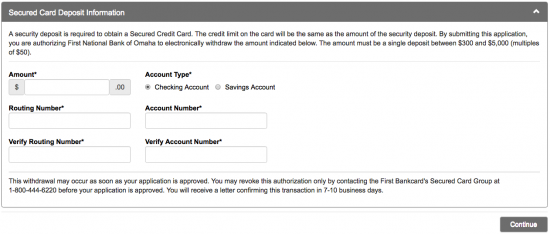 Step 8- Lastly, read over the terms and conditions associated with this credit card and, if you agree to the terms, check the small box located below the Important Notice. Now that you've supplied all the necessary personal and financial information, you can click Submit to have your card request sent in to First Bankcard for assessment. Confirmation should be received shortly via email regarding the approval of your application.

Thank you for choosing Card Reviews as your guide through the American Savings Bank Secured Visa Card application process. Best of luck with your new card!