The Bangor Savings Bank Secured Visa Card is a fine card for anyone with a below average credit score who's looking to get back on their feet. When you can't seem to get accepted for a standard credit card, there's a chance you may need to bite the bullet and settle for the secured option. Don't fret however, there remains a few perks to owning this Visa. Granted, there is no rewards program, there's a $25 annual fee, and the interest rate could be lower; but applying for this card ensures that your poor credit score can be strengthened as it requires that you make a security deposit during the application process. This account will be drawn from when a payment is late thus eliminating the stress of worrying about fees and lost creditworthiness. For information on how to apply for this card, take a look at our tutorial below.
All Bangor Savings Bank cards are issued by a third party institution, Elan Financial Services. We strongly recommend that potential cardholders read and review the online privacy policy to ensure that they're comfortable with the EFS information sharing protocol.
Requirements
In order to apply for a credit card, all applicants must meet the following criteria of eligibility:
Be 18 years of age
Have a U.S. address
Have valid, government issued ID
Have a valid Social Security number
Perform a security deposit of $300-$5000
How to Apply
Step 1 – Begin by navigating to the Bangor Savings Bank credit card summary page hosted by EFS (found here). Scroll down and in the right-hand column you should be able to spot the Secure Visa Card option. Click Apply Now under the heading to continue.

Step 2- Right off the bat you are given two options regarding the manner in which you will fund your secured card; apply online and do so through a checking or savings account, or fund the account with a cashiers check or money order. For the purposes of this tutorial, select Get Started under the Apply Online option.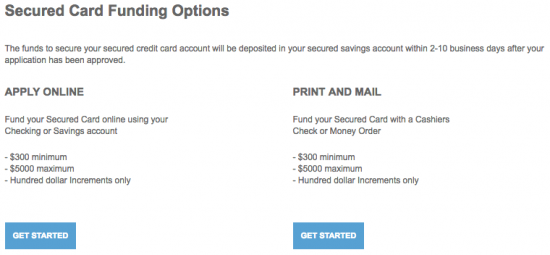 Step 3 – The application form starts off asking you for personal information including the following:
Full name
Date of birth
SSN
Country of citizenship
Country of permanent residence
Primary phone number
Mobile phone number
Email address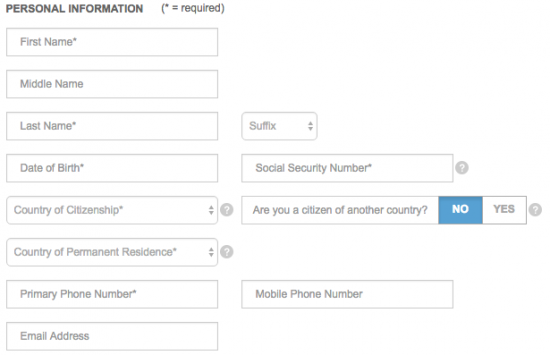 Step 4 – Now that your personal info is out of the way, we can go ahead and start filling in the Housing Information section. Please provide the following data:
Complete address
Time at address
Housing status
Monthly payment
Alternate mailing address (if applicable)

Step 5 – Your Income and Employment Information is next. Under this heading, you must enter in the following:
Employment status
Employer
Occupation
Annual income
Other income
Select Yes next to each application option under the question "Which of the following account types do you have with Bangor Savings Bank?". If you have none, skip this section.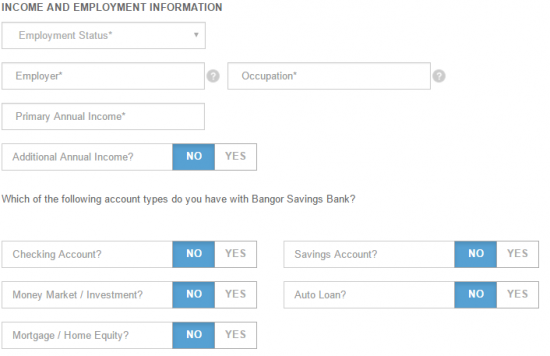 Step 6 – If you plan on adding a joint applicant, now is the time. Select Yes and enter the appropriate information. Again, if this does not apply to you, skip this section.

Step 7 – Your Secured Savings Account Information must be supplied here. This means you will need to provide them with the Funding Account Type (Checking/Savings), the Account Number, and the Routing Number. Finally you must indicate the Funding Amount which will in turn determine your credit limit.

Step 8 – Read through the disclaimers at this juncture and verify that the SSN/Tax ID number submitted earlier is true and accurate by checking the box below the Certification Instructions paragraph.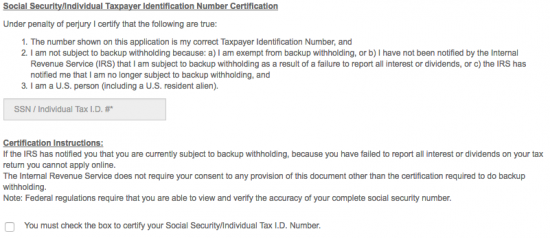 Step 9 – Read through the terms and conditions and make sure that you're comfortable with the contents of the document before you check the box indicating that you have read and agreed to it. When you're ready and have double checked all the information in your application, click Submit to complete the process.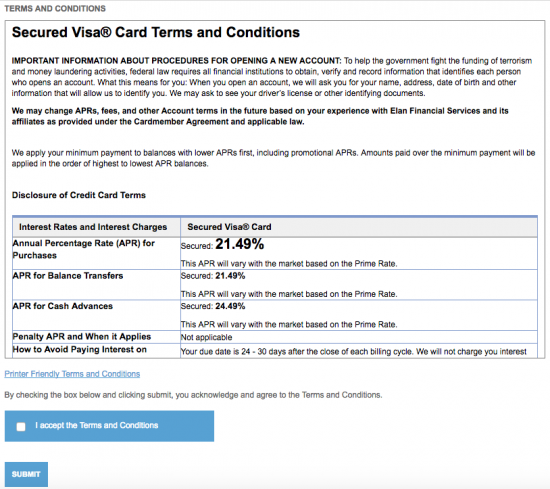 That takes us to the end of our tutorial. By now your application should be completed and your submission sent in to be reviewed by Elan Financial Services. We want to wish you the best of luck with the results of your application and we thank you for visiting us here at CardReviews.org. Take care!