Business owners who are looking to manage their cash flow and build good credit might be attracted to the Apple Bank Visa Business Secured Credit Card. This credit card allows you to make all the regular business-related purchases you require without worrying about your credit rating being affected by late payments. Cardholders request their own limit between $2,000 and $100,000 (subject to credit approval) and must provide a deposit equal to 110% of the requested limit. For example, if you would like a credit limit of $50,000, you would need to set up a savings account and deposit $55,000 into said account to act as a security measure. If you can't make a payment, or you miss a payment for whatever reason, the payment will be withdrawn from this savings account. As an added bonus, this savings account will earn interest at the same time. The interest rate on the savings account does not amount to a lot, but it's offered at no extra cost and there are no fees associated with being an account holder. However, there is a $39 annual fee attached to the credit card account, but this is a small price to pay to establish good credit for your business. To learn how to apply for the Apple Bank Visa Business Secured Credit Card, follow out short tutorial below.
To learn how First Bankcard might use your information, read through their privacy policy before filling out the application form.
Requirements
To be eligible for this credit card, you must meet the following requirements:
Applicants must be 18 years of age or older
Applicants must have a valid U.S. address
Applicants must have a valid Social Security number
Applicants must have a valid Tax ID number
Applicants must make a deposit between $2,200 and $110,000
How to Apply
Step 1 – To begin the application process, navigate to the First Bankcard Apple Bank business credit card page and locate the Apple Bank Visa Business Secured Credit Card. Click on the Apply Now button, as shown below, to continue to the application form.

Step 2 – The first section of the application form demands that you submit the following information pertaining to your business:
Business legal name
Tax ID number
Phone number
Physical address
Company name displayed on card
DUNS number (not required)
Company legal structure
Line of Business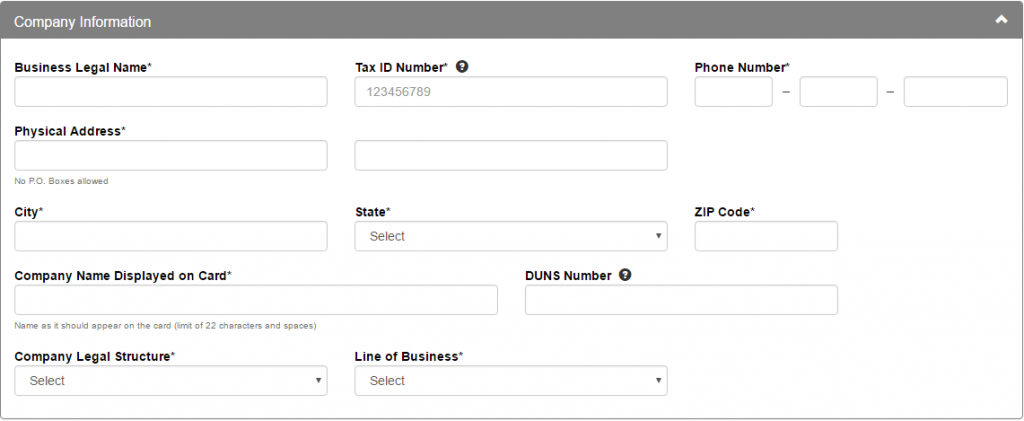 Step 3 – Under the Mailing Address section, enter the mailing address for your company. If this address is the same as the physical address, tick the box declaring the mailing address is the Same as Company Physical Address.

Step 4 – Next, provide some basic information on your current bank including Bank Name, Checking Account Balance, Bank Contact and Phone Number. You'll notice this section does not have an asterisk beside the empty fields, meaning it is not a required section. Fill it in only if you wish to provide First Bankcard with a financial reference.

Step 5 – At this juncture, enter the following information about the Authorized Company Representative:
First name
Last name
Social Security number
Physical address
Date of birth
Home phone number
Authorized representative title
Annual personal income
Years in current position
Estimate annual spend
Email address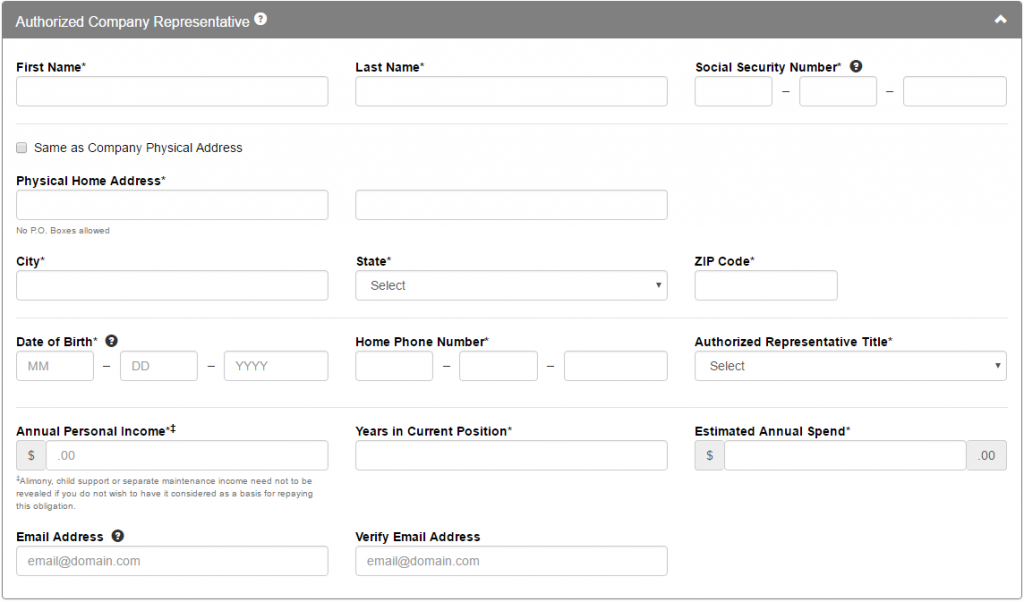 Step 6 – This section is where you will provide the security deposit information; enter an amount between $2,200 to $110,000 (in $50 increments). Next, select the Account Type and enter the Account Number and Routing Number.

Step 7 – Next, read through the Substitute W-9 form and, if you are subject to backup withholding, tick the box within that section.

Step 8 – This last section gives you the opportunity to add authorized users to the account. If you would like additional employee cards, enter up to 5 names along with their employee ID's. Click Continue once you are satisfied with all the information you have just entered.

Step 9 – The final step of the application process includes reviewing the information you have just entered and reading the terms and conditions. Once you accept these terms, tick the box at the bottom of the page and click Submit.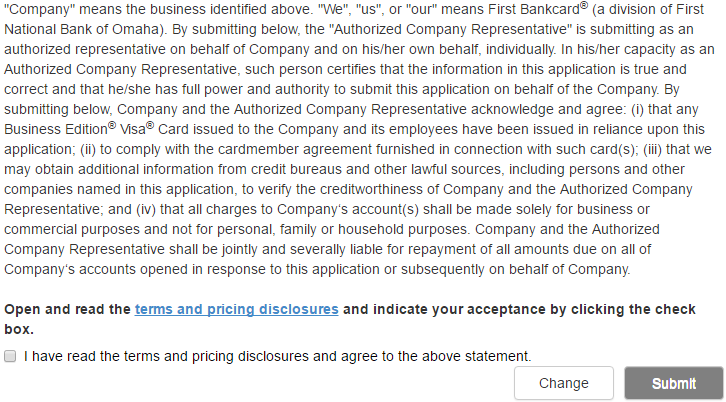 Your application will now be submitted for review and all you have to do is sit back and await your approval. Best of luck!