If you're a small business owner looking for a run of the mill credit card with which to make purchases for your company, the Astoria Bank Business Visa Credit Card might interest you. It's a no frills credit card with no rewards program, but a few other benefits. One of the main benefits is the 0% introductory APR on purchases and balances transfers. This offer only applies for the first 6 billing cycles, but is often useful in getting ahead when making large balance transfers or purchases. Be aware that balance transfer fees still apply during this introductory period. After the introductory APR, you will see the rate jump to 10.24%, 13.24% or 18.24%, depending on your credit score (APR is subject to change). If you have excellent credit score, you could be seeing the lowest rate offered (10.24%), which is good for a business credit card that has no annual fee attached to it. But if your balance is $500 or more, you will pay $39 in late fees. Note that this credit card is available only to small businesses with up to $5,000,000 revenue per annum. If you fit into this category, and wish to apply, follow our instructions below to apply for the Astoria Bank Business Visa Credit Card today.
Take a look at First Bankcard's privacy policy to learn how they will use the personal and financial information you submit in the application form.
Requirements
Make sure you meet the following criteria before applying for this credit card:
Applicants must be 18 years of age or older
Applicants must have a valid Social Security number
Applicants must have a valid Tax ID number
Applicants must have a valid US business address
Applicants must have a valid DUNS number
How to Apply
Step 1 – To begin the application process, navigate to the Astoria Bank business credit card page. Locate the Astoria Bank Business Visa Credit Card and click on the image of the card to continue. If a notice pops up that says you will be leaving the Astoria Bank website and navigating to a third party website, it is safe to continue.

Step 2 – At this juncture, you need to click the Apply Now button on the right side of the page to get to the application form.

Step 3 – You can begin filling out the application form starting with the following information:
Business legal name
Tax ID number
Phone number
Physical address
Company name displayed on card
DUNS number
Company legal structure
Line of business

Step 4 – If you're mailing address is the same as your physical address, tick the box marked Same as Company Physical Address. If it is a different address all together, enter the necessary information in the fields provided.

Step 5 – Although they do not require you to fill out the Financial Reference section, you may do so if you'd like to provide First Bankcard with more financial information. Enter your Bank Name, Checking Account Balance, Bank Contact and Phone number, or skip this step and proceed to the next section.

Step 6 – The Authorized Company Representative section is where you provide information on the guarantor for the business account. Enter the following personal information in order to continue:
Full name
Social Security number
Physical home address (if different from company physical address)
Date of birth
Home phone number
Authorized representative title
Annual personal income
Years at current position
Estimated annual spend
Email address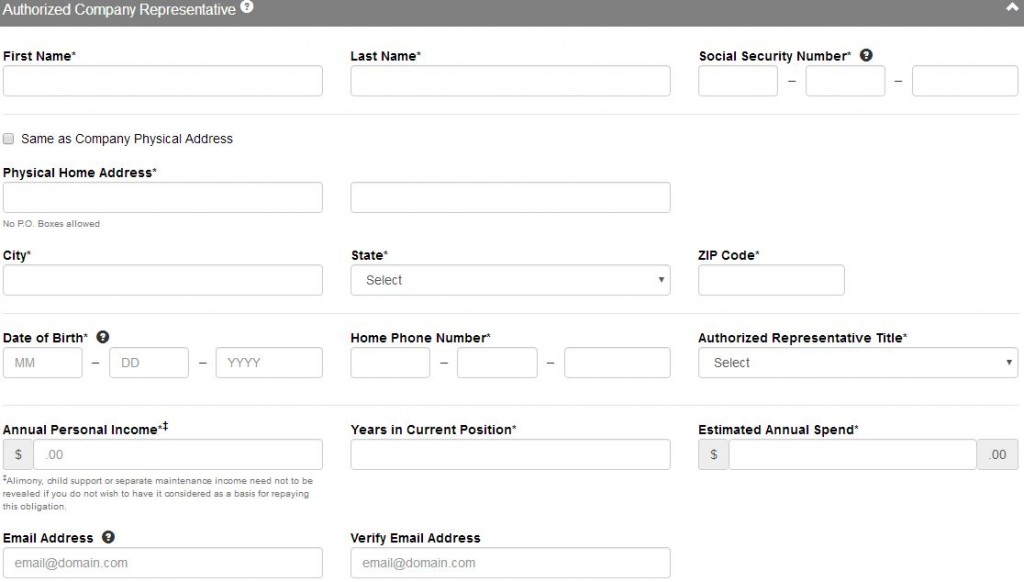 Step 7 – You may add up to 5 additional employee cards with this application. If you wish to add users to the account, enter their full name and their Employee ID or Last Four digits of their SSN. Click Continue once you are ready to proceed.

Step 8 – Now you are given time to review all the information you've just entered and read through the terms and conditions. Once you have read them, tick the box (as shown below) to accept these terms and click Submit once you are satisfied with your application form.

Congratulations, you've just completed the application form for the Astoria Bank Business Visa Credit Card! We hope your submission will be approved. Best of luck!