Anyone who takes an interest in the Apple Bank Visa Secured Credit Card is most likely looking to establish or re-establish good credit. The beauty of this credit card is you can benefit from the regular perks that come with a Visa credit card, but without the worry of demonstrating poor credit. With the Apple Bank Visa Secured Credit Card you can request your own credit limit by providing a deposit (between $300 and $5,000) into a checking or savings account that will act as a safe net for your credit card account. If you miss a payment or can't make a payment for whatever reason, the payment will be withdrawn from the security deposit you established when approved for the card. You might be able to get that deposit back if you make your payments on time, as long as your credit score ameliorates. You also have the opportunity to receive a credit limit increase without making another security deposit. There is a small annual fee of $19 attached to this card and, unfortunately, the interest rate of 20.24% is not very competitive (APR is subject to change). If you do a little research, you'll find many other secured credit cards offer lower APR's. Although some come with a higher annual fee, the benefits of a lower interest rate outweigh the disadvantages of an annual fee. Perhaps you find the Apple Bank Visa Secured Credit Card to be the perfect choice for you. If so, apply for yours today by following our short tutorial posted below.
You'll find it informative to read through First Bankcard's privacy policy before divulging any personal or financial information.
Requirements
Make sure you meet the following requirements before applying for this credit card:
Applicants must be 18 years of age or older
Applicants must have a valid US address
Applicants must have a valid Social Security number
Applicants must provide a $300 to $5,000 security deposit
How to Apply
Step 1 – To begin, navigate to the First Bankcard Apply Bank credit card page. Locate the Apple Bank Visa Secured Credit Card and click Apply Now.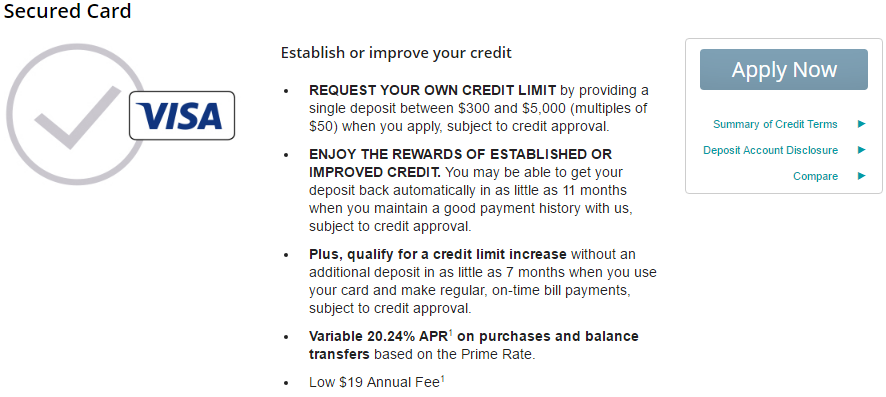 Step 2 – The first section of the application form demands that you enter the following personal information into the appropriate fields:
Name
Physical address
Home phone number
Email address

Step 3 – Next, you're asked to provide further personal information so First Bankcard can properly confirm your identity:
Date of birth
Social Security number
Mother's maiden name

Step 4 – This next section involves information on your current dwelling, including Years at Address, Housing Status and Monthly Housing Payment.

Step 5 – To gain a better understanding of your current financial situation, you must provide the following information in order to proceed:
Present employer
Business phone number
Total annual income
Checking account balance
Savings account balance
Investment account balance

Step 6 – At this juncture you may choose to add an Authorized User to the account. If this interests you, enter the person's full name into the appropriate fields.

Step 7 – This step is where you fill out the security deposit information, including Amount, Account Type, Routing Number and Account Number.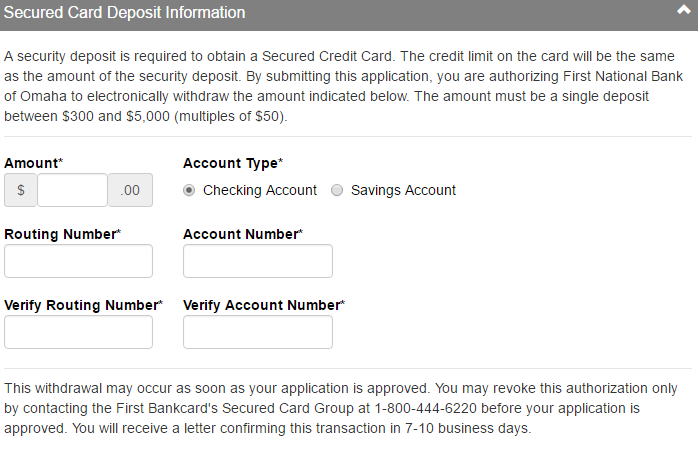 Once you have completed all the required sections, click Continue. On the subsequent pages you will be given the opportunity to read and agree to the terms and conditions before submitting your application form. Once it has been submitted for review, you can sit back, relax and await your approval. We hope these instructions proved helpful to you and hope your application is successful.