The Five Star Bank Secured Visa Credit Card is all about accommodating those of you who are seeking to establish, or re-establish, a good credit score. In order to obtain a Five Star Bank Secured Visa Credit Card you must open a secured savings account, which will be used as security for your credit card account. You can then deposit between $300 to $5,000 into said account, the amount that will in turn determine your credit limit. This deposit is there to ensure you make your payments on time. This card comes with a fee of $35 per annum and an APR of 21.24% (APR is subject to change). There are many secured credit card options, some of them with lower annual fees and APR's that this one, so make sure this is the right choice for you before applying. If you're ready to apply now, follow the directions we have provided below.
Take a second to read through the privacy policy provided by Elan Financial Services (the card-issuing company) before continuing with the application.
Requirements
The minimum requirements for this particular credit card are as follows:
Applicants must be 18 years of age
Applicants must have a U.S. address
Applicants must have a SSN
Applicants must make a minimum security deposit of $300 ($5,000 maximum)
How to Apply
Step 1 – To get to the Five Star Bank Secured Visa Credit Card application form you'll need to navigate to the Five Star Bank credit card page on the Elan Financial Services web portal. Click on the Apply Now link found below Secured Visa Card.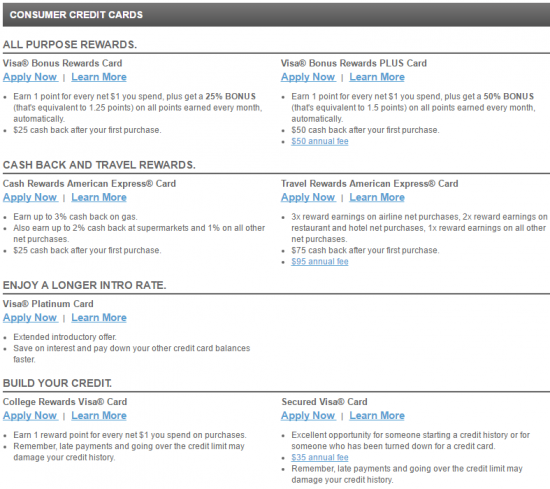 Step 2 – You have the option of using a checking or savings account to make your deposit or a cashiers check or money order. This tutorial follows the Apply Online process, so click on the Get Started button on the left, as shown in the window below.

Step 3 – The first section asks for the following personal data:
Name
Date of birth
Country of citizenship
Country of permanent residence
Phone number
Email address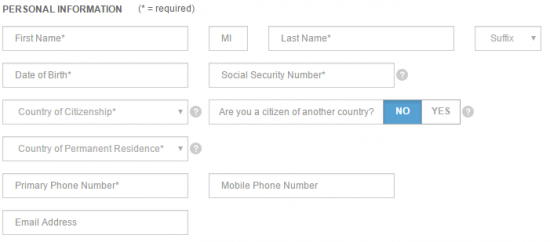 Step 4 – You need to provide them with your current address, how long you've been at that address, whether or not you own or rent and how much you pay per month. If you have an alternate mailing address you may select Yes enter in below your main address.

Step 5 – At this juncture you are required to enter the following income and employment information:
Employment status
Employer
Occupation
Annual income
Other income (if it applies)
You also need to provide information on any accounts you currently have with Five Star Bank. If you would like any additional cards, you can add the joint applicant's information after selecting Yes under Joint Applicant?.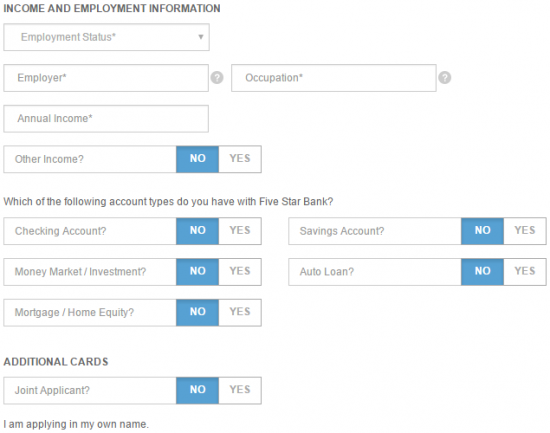 Step 6 – This step requires you to fill in the following information to create your secured account:
Funding account type
Account number
Routing number
Funding amount (between $300 and $5,000)
SSN or Individual Tax I.D. #
Make sure to check the box to certify your Social Security/Individual Tax I.D. Number.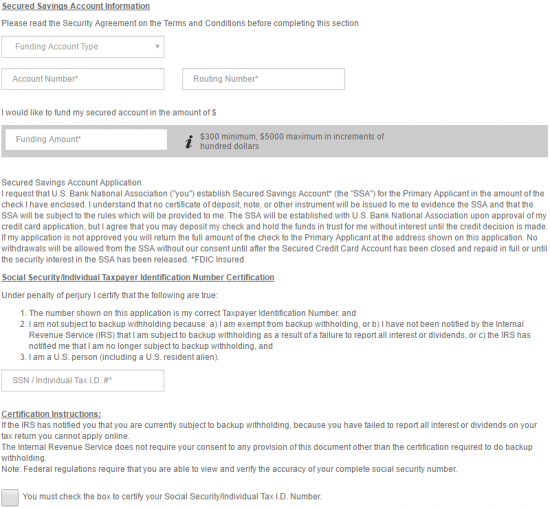 Step 7 – After you have read through the terms and conditions, tick the box marked I accept the terms and conditions and click Continue to submit your application. We hope this tutorial has proved useful to you. Good luck on your approval!