American Eagle Outfitters (AEO) offers two different credit cards to interested customers. Their store card lets you earn rewards on AEO purchases, while the Visa card can be used wherever Visa is accepted. With the AEO Visa, your interest rate for purchases will be 24.24% which is slightly lower than the store card's APR of 25.24% (APR is subject to change). Both are valuable cards if you are a loyal American Eagle customer and are looking to earn reward points that can be used in exchange for valuable gift certificates. If you are interested in applying for an American Eagle Credit Card, you can do so easily by following the step-by-step guide we have created. Simply scroll down this page and you will find everything you need to know about completing the online application process for both of the American Eagle Credit Cards.
We highly recommend to all of our readers that they take a moment to read and review the online privacy policy that corresponds with the online application process. Doing so will keep you informed of how your personal information is going to be handled.
Requirements
Before you begin the application process, it is important to ensure that you meet the following requirements:
Be 18 years of age or older
Have a U.S. Social Security Number
Be a resident of the United States of America
How to Apply
Step 1- Click here to access the online application form. Once the page has loaded, you are asked to indicate which card it is you're applying for, be it the AEO Visa Card or the standard AEO Credit Card. You must also choose between one of the two available card designs.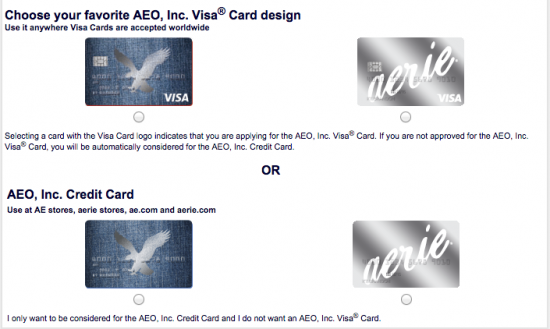 Step 2- Enter the following personal information in the blank spaces provided:
First name
Last name
Address
City
State
Zip
Primary phone number and type of number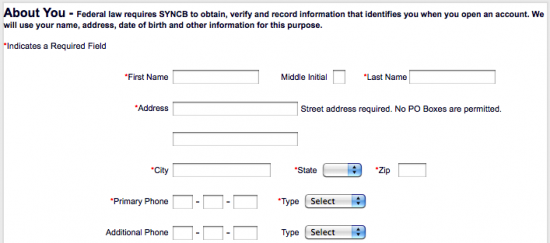 Step 3- Continue by supplying your Email Address and specify whether or not you would like to receive emails from Synchrony Bank and AEO. Just below that, provide your Annual Net Income from all sources and your Time at Current Address.

Step 4- Next, choose your preferred statement delivery method. We recommend choosing Electronic Statements as it is a simpler, more environmentally friendly option.

Step 5- Verify your identity by supplying your Date of Birth, SSN/ITIN, and your Mother's Maiden Name.

Step 6- Before you go ahead and submit your application, take a moment to review the terms and conditions for this credit card. If you agree to these terms, check the small box found within the text highlighted in blue. Click Accept & Submit to have your application sent in to Synchrony Bank for review and to finalize the application process.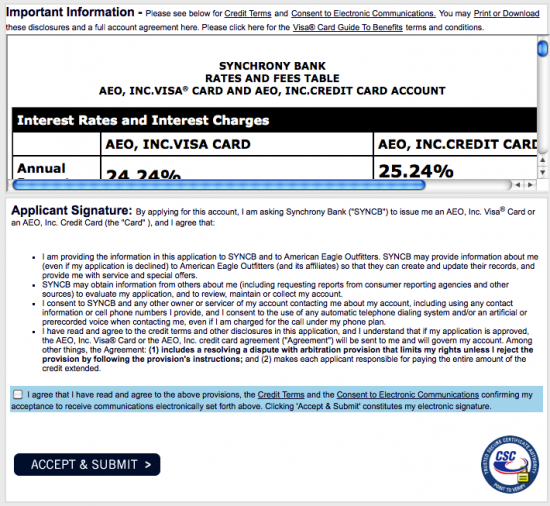 Thank you for using our services today! We hope our instructional guide has benefited your application experience and we wish you all the best.