American Express offers many different cards for many different levels of financial need. Each and every one of these cards can be managed in their entirety through a helpful online portal located directly on the American Express homepage. The banking portal allows cardholders to activate their newly received cards and to log into their online accounts so that they can manage their finances. After logging in, users can request additional cards, update contact information, pay bills, transfer funds, and review their statement history. Simply follow the steps listed in the guide we have provided for you, available below, and you will have no trouble managing your American Express credit card online.
It is important to be aware of the way in which the personal information you supply online is going to be used. That is why we always recommend that new users review the American Express privacy policy.
How to Login
Cardholders that are looking to log into their online accounts must first navigate to the American Express homepage, linked here. In the login menu located in the upper left portion of the page, enter your User ID and Password. Click Log In and access to your online will be granted.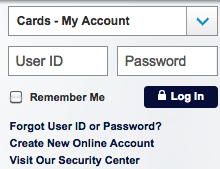 If you are unable to log in due to a forgotten user ID or password, click on the appropriate link found just below the login fields. The retrieval page (pictured below) asks you to enter the 15-digit number on the front of you card and your 4-digit Card ID. Click Continue and you will be able to retrieve your login information by following the instructions provided on the next page.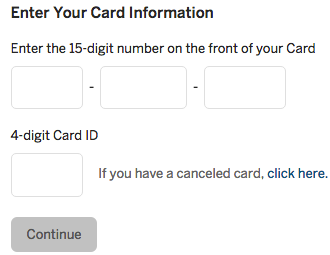 Activation/Registration
Have you just recently received your new American Express card in the mail and need to activate it? Well activating your card is a breeze with the online portal available on the American Express homepage. You can access the online portal by heading over to this webpage. Once there, supply your 4-Digit Security Code and Card Account Number in the empty spaces. Click Continue to move on to the next step where you can customize your card before activating it. You can also activate your card by calling 1 (800) 528-4800 and speaking to a customer service agent who will walk you through the process.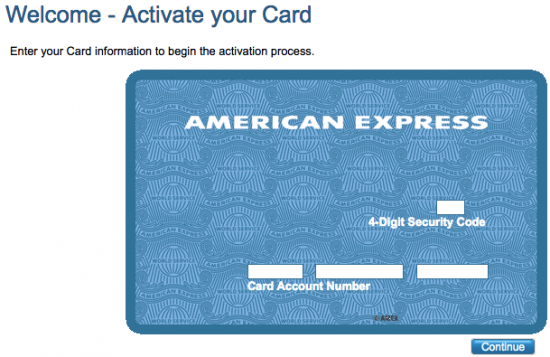 If you'd like to sign up for an American Express online banking account, click on the Secure Registration link to start the process (link posted underneath the Activation/Registration heading above). You must supply your 15-Digit Card Number and 4-Digit Card ID in the empty fields found on the enrollment webpage. Once entered, click Continue to proceed to the next step where your personal information is required. The last thing you need to do is create your login credentials (password, user ID). Once the registration process is complete, your account will be registered and ready for use!

We hope that you found this tutorial beneficial in your attempt to activate your card, register for online banking, or sign into the online portal (whatever the case may be). Thank you for using our services today and feel free to come back whenever credit card assistance is needed.