American Express has simplified the steps involved in credit card management by giving cardholders everything they need to keep track of their finances right on their website. By logging into an American Express online account from any computer, tablet, or mobile device, cardholders have the ability to request additional cards, update contact information, review statement history, pay bills, and much more. To make these processes even easier, we have provided you with a guide on how to sign up for, and log into, an online account as well as how to activate your newly received card. Simply follow the steps below and you will be well on your way to maximizing the potential of your American Express Starwood Preferred Guest Business Credit Card.
Before submitting any sensitive information online, take a moment to review the American Express privacy policy to see how your personal data is going to be handled.
How to Login
To log into your American Express online account, you need to first get to the American Express homepage where you should find the login menu in the upper left corner of the screen. There, input your User ID and Password and click the Log In button to be granted access to your online account. If you have forgotten or lost your login information, click the Forgot User ID or Password? link and you will be directed to a retrieval page.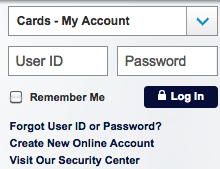 With the retrieval page accessed, supply the 15-digit number on the front of your card and your 4-digit Card ID in the empty spaces. Click Continue to proceed and you will be taken to the next step in the process. Simply complete the remaining set of instructions and you will be able to retrieve your user ID or reset your password.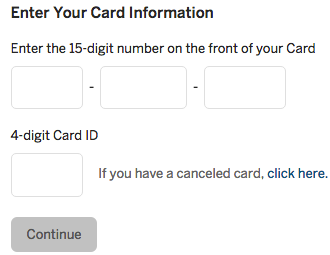 Activation/Registration
Activating an American Express card is a simple task that can be accomplished online. Start by navigating to the activation webpage where you must supply your 4-Digit Security Code and Card Account Number. Click Continue to proceed to the following page where you will be able to customize certain aspects of your card before having it officially activated. Now that your card is ready for use, click on the Secure registration link (located above this paragraph) to start the enrollment process for an American Express online banking account.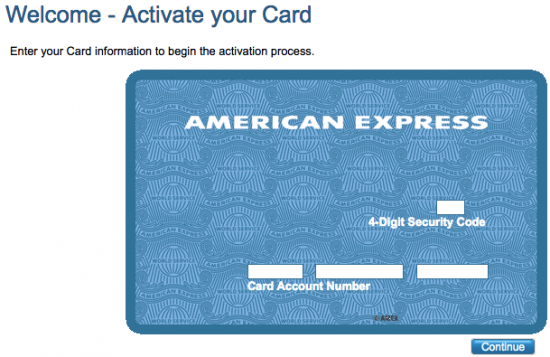 Here you must supply your 15-Digit Card Number and 4-Digit Card ID. Once your card information has been entered, click Continue and you will be taken to the following page where some additional personal information is required. Lastly, create your login and security credentials and you're all done! You may now access the American Express online banking portal and manage your credit card with ease.