The American Express Delta Reserve for Business Credit Card not only comes with outstanding reward points bonuses, but it also comes with an intuitive and easy online management system. American Express allows users to request additional cards, make payments on outstanding bills, activate any newly received cards, update contact information, and review statement history all from their personal computer. If you are having trouble with the login or registration processes, or if you're are unsure of how to activate your newly received card, simply follow the below guides.
Be sure to review the American Express privacy policy to see how the personal information you supply online is going to be handled.
How to Login
In order to log into your American Express online account, navigate to the American Express homepage and enter your User ID and Password in the available blank fields. Click Log In and access to your account will be granted.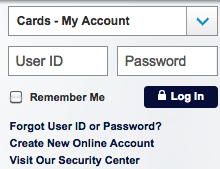 To retrieve a forgotten user ID or to reset you password, click on the Forgot User ID or Password? link located below the login fields. The following page has empty fields in which you must supply the 15-digit number on the front of your card and your 4-digit Card ID. Once entered, click Continue to proceed. The next page will direct you towards retrieving your user ID or resetting your password.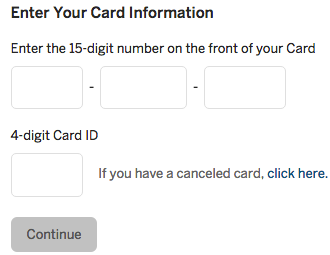 Activation/Registration
If you'd like to activate your newly acquired credit card, navigate to this webpage and supply your 4-Digit Security Code and Card Account Number in the spaces provided. Click Continue to proceed and complete the remaining set of instructions to activate your credit card. With your card activated, click on the Secure registration link (located above this paragraph) to begin the enrollment process for an online banking account.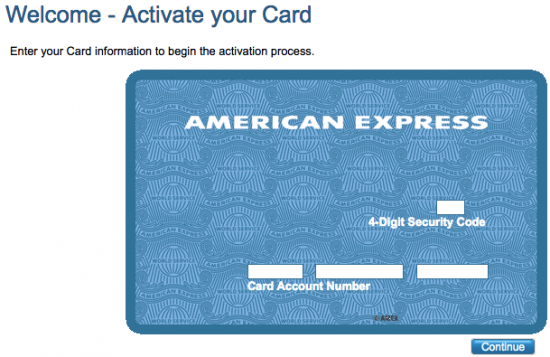 With the enrollment page on screen, supply your 15-Digit Card Number and 4-Digit Card ID. Next, click Continue to proceed to the subsequent page where you are required to give some additional personal information. The last step will require you to decide on a user ID and password for your account as well as any other security credentials. Once this process is complete, your online account should be registered and you can start to take advantage of the financial management tools available on the American Express online portal. Happy banking!