The Ashley Furniture Credit Card is one of the many department/furniture store credit options issued by Synchrony Bank that have outrageously high interest rates justified only by the offer of "exclusive deals" and "special financing opportunities". Cards of this nature are used to entice in-store shoppers to make purchases that would normally be financially out of reach. To give the card some credit (no pun intended), certain purchases have as much as 60 months with 0% interest and you could receive up to 25% off of certain purchases made on various holidays throughout the year. If you're a frequent shopper at Ashley Furniture and feel like you could take advantage of some of their offers, this card might be suited to you. If not, we recommend looking elsewhere. Should you still be interested in applying, scroll down for a detailed look at the online application process.

Before submitting your personal information online, review the Synchrony Bank privacy policy to see if you're comfortable with their methods of handling your personal, sensitive information.
Requirements
All applicants must ensure that the following requirements have been met before proceeding:
You are at least 18 years of age
You have a valid SSN
You have a valid US address
How to Apply
Step 1- Begin by accessing the card summary page which details the features available with this credit option. From there, select the Apply Now link to proceed to the online application form.
Step 2- Next, provide your First Name, Last Name, and Social Security Number/ITIN in the empty spaces pictured below. Once entered, click Continue to proceed.

Step 3- On this page, you should see a series of empty spaces highlighted with a red asterisk. These fields must be filled in with your personal information, starting with the following:
Initial purchase amount (if known)
First name
Last name
Mailing address
Zip code
Primary phone number and type
Email address
Confirm email address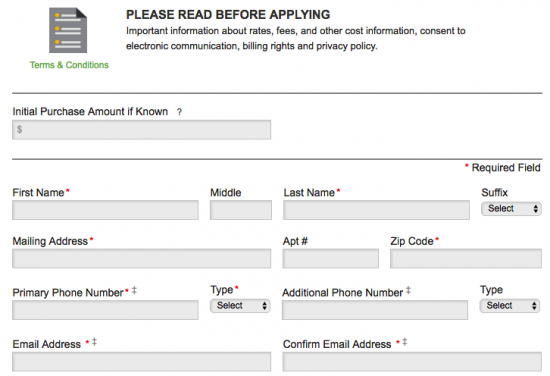 Step 4- Continue by supplying your Date of Birth, Housing Information (optional), and Monthly Net Income From All Sources. Just below that, select Yes or No to indicate whether or not you're applying with a joint applicant.

Step 5- Let Synchrony Bank know your preferred statement delivery method by selecting either I want Electronic Statements or I want Paper Statements. Click Continue after making your selection.


Step 6- Before you go ahead and submit your application, review the terms and conditions to ensure that you're comfortable with the interest rates and various policies that Synchrony Bank has put in place. If the terms are to your liking, click Accept to finalize your card request and have it sent in to Synchrony Bank for review.

You have just completed the application process for the Ashley Furniture Credit Card. We would like to thank you for choosing to use our services today and we wish you the best of luck with your new credit card. Take care!