If you are looking for a credit card with a low APR and you also happen to have an excellent credit score, the Bank of Albuquerque Visa Platinum Credit Card may be able to suit your needs. The APR for this card can be assigned at a rate as low as 10.49% for applicants of exceptional creditworthiness. However, the APR will be assigned based on each applicant's credit score and, depending on your credit history, could be set as high as 21.49% (APR is subject to change). Therefore, if you have a less than stellar credit score, you may want to look into a card that throws in some more benefits. For anyone confident that they will be able to qualify for the low APR of 10.49%, by all means consider applying for this no-annual fee credit card and enjoying the first 12 billing cycles with a 0% APR. To find out how to apply for this card online, scroll down and follow our step-by-step guide.
Before you submit any of your personal and financial information, we recommend that you read through the card-issuer, Elan Financial Services' privacy policy.
Requirements
Applicants must meet the following criteria to be eligible for this credit card:
Be 18 years of age or older
Have a valid US address
Have a valid SSN
How to Apply
Step 1 – To start, navigate to Bank of Albuquerque's credit card page and scroll down until you locate the Visa Platinum Card category. Once you've found it, click the red Apply Now link to start your application.

Step 2 – Within the application form, you will be required to fill every field that is marked with an asterisk. This can be accomplished by typing the information into an indicated field, by selecting the appropriate option from the drop-down menu, or by selecting Yes or No where applicable. Begin by providing the following information into the Personal Information section:
Full name
Date of birth
SSN
Country of citizenship
Country of permanent residence
Phone number (mobile phone number optional)
Email address (optional)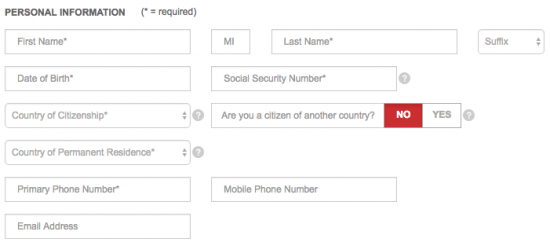 Step 3 – Now, you will be asked to provide the below information regarding your housing situation into the Housing Information section.
Complete physical address (city, state, ZIP code)
Time at address
Housing status
Monthly payment
Alternate mailing address (if applicable)

Step 4 – At this juncture, you will need to supply the details of your employment and income listed below into the Income and Employment Information section.
Employment status
Employer
Occupation
Annual income
Other income (if applicable)

Step 5 – If you have are already an existing client of Bank of Albuquerque, select Yes beside each account and service that you have with them.

Step 6 – In this step, if you would like to perform balance transfers select Yes in the Balance Transfers field and provide the necessary information regarding your requested transfer. If you wish to add joint applicants and/or authorized users, select Yes next to each option that you wish to apply and provide the information demanded. If none of these options interest you, just skip ahead to the next step.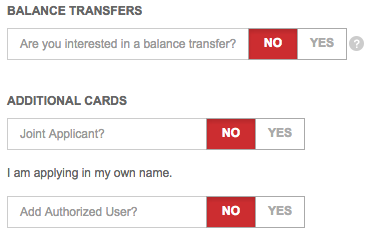 Step 7 – The final step of the application process is to thoroughly review the terms and conditions for this credit card. If you agree to the terms, tick the little box marked I accept the Terms and Conditions box and click the Submit button at the bottom of the page to submit your application.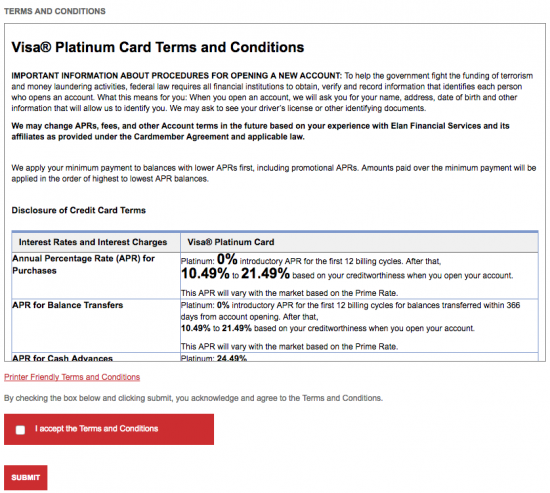 If you made it this far, your application for the Bank of Albuquerque Visa Platinum Credit Card is finished and submitted to be reviewed by Elan Financial Services. We hope that our guide has been helpful and we thank you for visiting Card Reviews. Good luck!