The Bank of the Sierra Visa Platinum Credit Card is offered by the Bank of the Sierra in partnership with Visa. The Visa Platinum is, according to the Bank of the Sierra, the "best introductory offer" they have. If you are weary of high interest rates, this card could be for you. With an introductory 0% APR for 12 months, you the Visa Platinum allows you to worry about other credit card balances for the first year that you are a cardholder.
This article outlines how one can login to their Bank of the Sierra Visa Platinum Credit Card account and how one can register their card if need be.
It should be noted that the Bank of the Sierra Privacy Policy is available to read on their site. It outlines who has access to the data you give to the Bank of the Sierra.
How to Login
In order to manage your account online, you'll have to head to the Bank of Sierra credit card homepage. In the top-right corner take note of the orange "Login" button. Simply enter your Sierra Online Banking ID and click "Login".
The next page you will find yourself on is where you will enter your password. After gaining access to your personal account page, you can make payments on your card, view your balance, and edit your account information.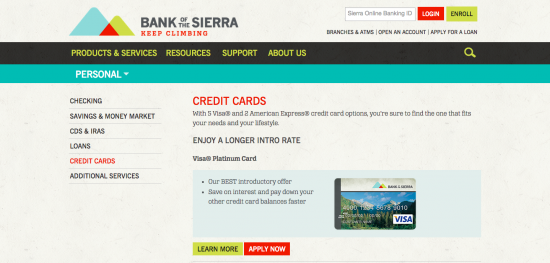 Activation/Registration
Activation #: 1 (888) 454-2265
If you do not yet have an online banking ID with Sierra Bank, it is most likely because you have not yet registered your card. You can do so by clicking "Secure Registration" above and finding the "Enroll" button towards the top right. Click this button.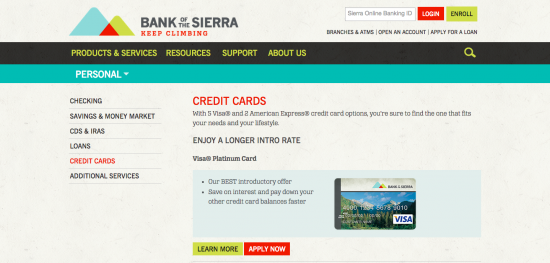 Next, read and review the Terms and Conditions for Bank of the Sierra online banking. When you are ready, click "I agree" to proceed to the next step.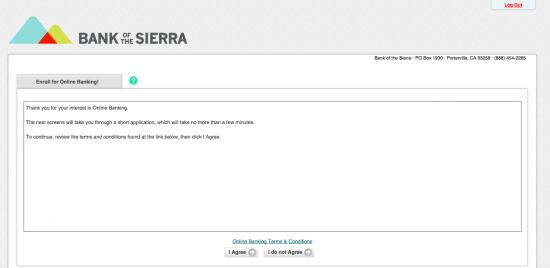 Finally, enter your "Account Number" and the last 4 digits of your social security number. After clicking "Continue" you will receive your ID and from now on be able to access your personal account page from the regular login screen you can find above.