The Bon-Ton Credit card is ideal for those who spend a lot on their apparel, cosmetics, home furnishings, bedding and furniture. With a convenient online account management feature and a generous rewards program, the card is time-efficient and can save you some money on future purchases.
Applying is also easy. Click on the "Apply Now" button on this page and continue reading below in order to get started.
Requirements
Like any other credit card, there are requirements to meet in order to be deemed eligible to apply. For the Bon-Ton Credit Card, these are:
Being at least 18 years of age
Reside in the U.S.
Pass a credit check by Comenity Bank
How to Apply
As previously stated, applying for the Bon-Ton Credit Card is simple. Just follow these steps and you'll be receiving your decision in a few minutes. If you'd like the process to be even quicker, prepare your personal and financial information to make the process even quicker.
Step 1: Go to This Webpage.
Step 2: Begin the entry on your information. Beginning under the "Your personal information" heading, enter your:
Name (first, middle, and last)
Social security number
Date of birth
Under "Annual income", enter your annual income.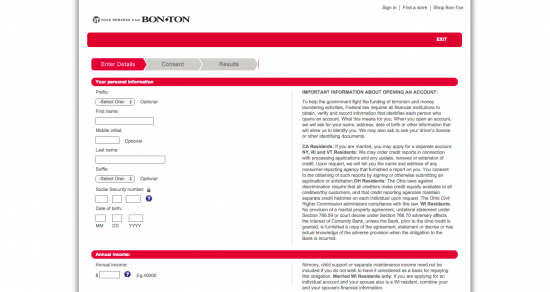 Step 3: Under the next two headings, enter your:
Address
City, state, and ZIP code
Home phone number
Work phone number
Email address
Finally, decide whether you'd like to add an additional buyer. An additional buyer is someone who can make purchases with your card but is not legally bound to pay the debt that is incurred on your Bon-Ton Credit Card.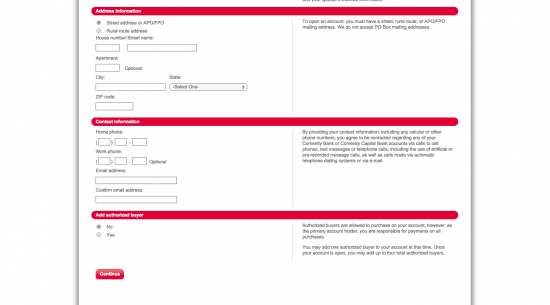 After clicking the "Continue" button, you will be required to read and review the Terms and Conditions, decide on your account information, and then find out whether you are successful in applying for the card. Good luck with your application for the Bon-Ton Credit Card.