The Bowflex Nautilus Credit Card can help finance a new home gym over the course of 18 months, with no interest paid. Through Synchrony Bank, you can purchase a Bowflex home gym and start getting fit in no time.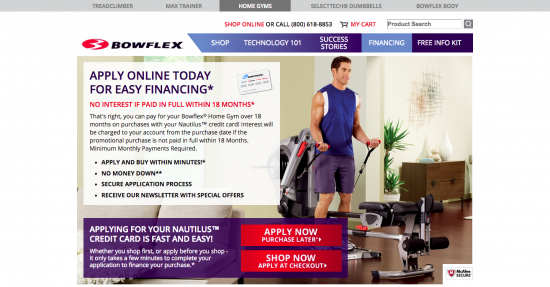 Make a Payment
Making a payment on your Bowflex Nautilus Credit Card is simple. In order to do so, you must first login to your account. This can be accomplished by heading to the link provided on this page and clicking the blue "Current cardholders manage your account" button. Continue by entering your username and password at the top of the next page. Finalize your login by clicking the white and green "Go" button.
Once logged in, users can make payments, update information on their account, and browse other Nautilus workout equipment merchandise.
Activation
First-time visitors are required to register their card before being granted access to an online account. Fear not, however, as registering your card and securely activating it can be done easily. First, follow the hyperlink above to the secure activation page.
Next, enter your account number. If you're unsure as to where you can find this number, find a mailed statement for the card and you will see your account number. Next, enter your social security number for security purposes. Finally, enter your date of birth and click "Next".
Your Bowflex Nautilus Credit Card card is now activated.