The Canandaigua National Bank and Trust Secured Card is a decent credit option for anyone looking to rebuild a bad credit score or for anyone who is having difficulty being accepted when applying for a credit card. This particular Visa has an annual fee of $19 and the APR, while high, is fairly reasonable when compared with secured credit cards. In any case, if you're looking to build a good credit score, you need to pay off your monthly balance on time to avoid accruing unnecessary and expensive interest. Your credit limit for this card will be equal to that of a mandatory security deposit, made during the application process, which must be in the amount of at least $300 (max. $5000). We have provided a guide below for anyone wishing to apply for this credit option. If you just scroll down, you can follow our step-by-step instructions on how to complete the online application for the Canandaigua National Bank and Trust Secured Card.
We recommend that you review the card-issuer, First Bankcard's privacy policy before you submit any of your private information to them.
Requirements
You must meet the following requirements in order to be eligible for this card:
Be at least 18 years of age
Have a valid SSN
Have a valid US mailing address
Make a security deposit of $300-$5,000
How to Apply
Step 1 – To begin the application process, navigate to the Canandaigua National Bank credit card page and locate the Secured Card option from the list of credit cards. Once there, click the Apply Now link next to Secured Card to be directed to the application form.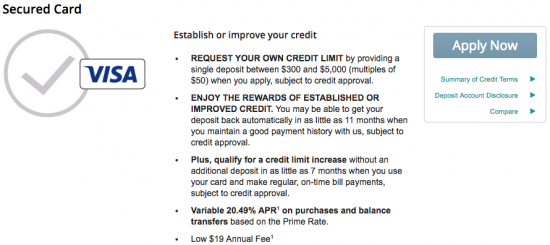 Step 2 – Now, enter all of the information listed below into the Contact Information section where indicated.
Full name
Physical address (including city, state and ZIP code)
Home phone number
Email address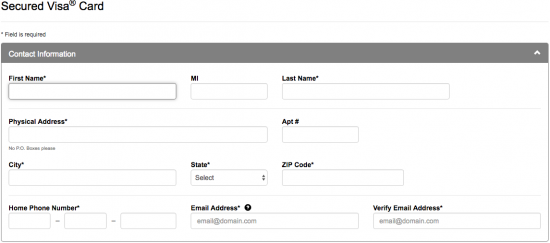 Step 3 – Next, you will be required to enter all of the following personal and residential information:
Date of birth
SSN
Mother's maiden name
Years at address
Housing status
Monthly housing payment

Step 4 – To help First Bankcard better understand your financial situation, you will be asked to provide all of the financial information that is listed below.
Present employer
Business phone number (optional)
Total annual income
Checking account balance (optional)
Savings account balance (optional)
Investment account balance (optional)

Step 5 – If you wish to authorize someone else to use your account, provide their full name in the indicated fields of the Authorized User section.

Step 6 – Here you will have to provide the details of the deposit that you will be processed if your application is accepted. Enter the below information into the Secured Card Deposit Information section before clicking Continue.
Amount ($300-$5,000 in multiples of $50)
Account type
Routing number
Accounting number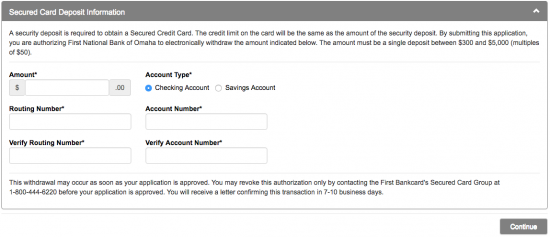 Step 7 – In this final step you can review all of the information that you have entered into your application. If you find any errors or missing items, click the Change link at the bottom of the page to make corrections. When you are finished, read the terms and conditions for this credit card and, if you consent to the terms, check the I have read the Summary of Credit Terms box. When you are ready, click Submit to have your application submitted for review.

This brings us to the end of our guide. We wish you good luck in your financial endeavours and we thank you for choosing Card Reviews as your credit card expert.