If you are looking to apply for a secured credit card and you happen to reside in New York state, you may want to consider applying for the Glenn Falls National Bank Secured Credit Card. Glenn Falls National Bank is the oldest corporation in Warren County and has been serving the region for almost 200 years. Along with First Bankcard, which is the card issuer and creditor, they have provided a host of credit options including this one. The benefits of the Glenn Falls National Bank Secured Credit Card, are that you are very unlikely to have your application refused, the annual fee is slightly less than many other secured cards, and your credit score will be protected by a mandatory security deposit. The details of this deposit will be made during the application process, and your credit limit will be set according to your deposit amount. If you are ever late making payments, First Bankcard has the right to draw from this deposit to pay off your debt. In this way, you will be able to avoid damaging your credit score. Would you like to apply for the Glenn Falls National Bank Secured Credit Card? You can do so by scrolling down and following our straightforward tutorial.
Before submitting your application, we recommend that you read through First Bankcard's privacy policy.
Requirements
Applicants must meet the requirements listed below in order to be eligible for this card.
Be at least 18 years of age
Have a SSN
Have a valid US mailing address
Make a security deposit of $300 to $5,000
How to Apply
Step 1 – To get started, navigate to the Glenn Falls National Bank credit card page and scroll down until you have located the Secured Card. Once you have found it, you will need to click the big Apply Now button to continue.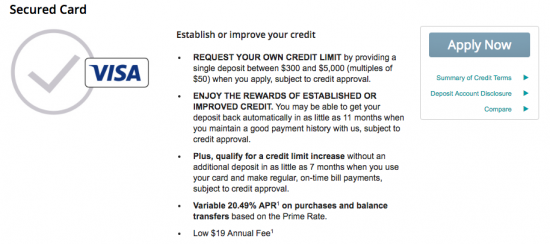 Step 2 – Now, you will have arrived upon the application form. Scroll down and fill out all of the following information into the indicated fields:
Full name
Complete physical address
Home phone number
Email address
Date of birth
SSN
Mother's maiden name
Number of years at current address
Housing status
Monthly housing payment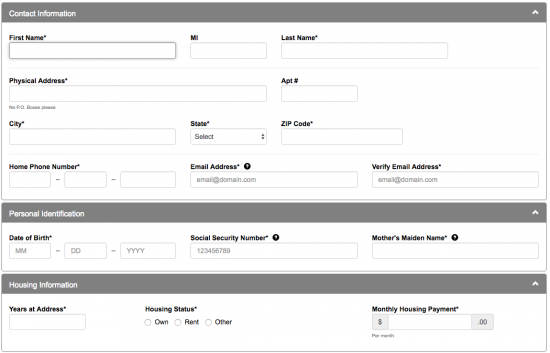 Step 3 – To give First Bankcard an idea of what your current financial situation is, you will be asked to supply the following Financial Information into the specified blank spaces:
Present employer
Business phone number
Total annual income
Checking account balance
Savings account balance
Investment account balance

Step 4 – In this step, if you are going to be adding an Authorized User to this account, enter their full name into the indicated blank fields. Otherwise, skip this step.

Step 5 – Here, you will have to provide the following details in regards to the security deposit that you must make:
Deposit amount
Account type
Routing number
Account number
When you have finished providing the required details of your deposit, click Continue to proceed to the last step.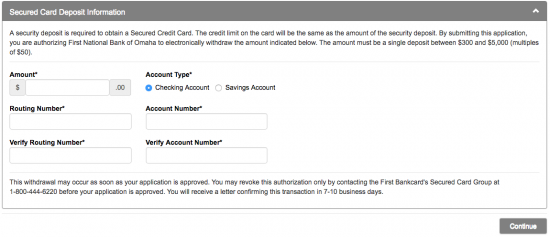 Step 6 – Before submitting your application, you are given a chance to look over all the information that you have provided and to read this credit card's terms and conditions. If all of your information has been correctly entered and you agree to the terms and conditions, check the box indicating your consent and click Submit to submit your application.


Congratulations on successfully completing and submitting your application! We hope that our guide helped make the process swift and easy, and we thank you for visiting Card Reviews. All the best!