The benefit of the First National Bank Secured Visa Credit Card is to establish or rebuild credit history. It is probably not a card sought out by everyday cardholders, therefore we have designed this webpage to give insight into the application process. In order to obtain this card you are required to make a security deposit, which will determine the amount of credit limit. However if you are looking to improve your credit, all you have to do is keep up with your payments and you could reclaim your initial deposit. All other rates and fees are quite similar to the average credit card, including an 18.24% APR (APR is subject to change). Should you have the desire to apply for this card we have supplied instruction below to make it faster and easier for you.
We encourage you to read the privacy policy before continuing so you may gain a detailed understanding of First National Bank's approach to information sharing.
How to Apply
Step 1 – To begin, you'll have to find your way to the credit card section of First National Bank's website. We've also conveniently added a link here. Once you've arrived to that page, locate the Secured Visa Card at the bottom and click Apply Now.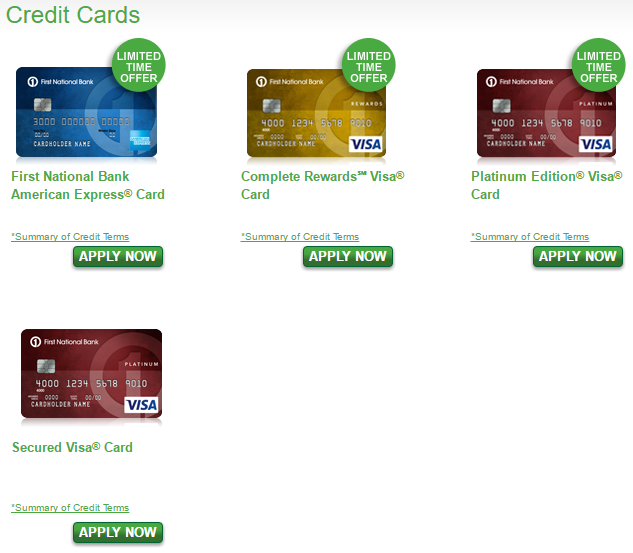 Step 2 – Now you will start filling out information about yourself, so the bank can verify who you are. The first section has you entering your name, address, phone number and email address.

Step 3 – After that they required your date of birth, social security number and mother's maiden name.

Step 4 – Next they need you to note how many years you've lived at your current address, whether you own or rent, and finally how much you pay on a monthly basis.

Step 5 – In this step the following information must be provided:
Current employer
Your business phone number if applicable
Total Annual Income
Funds in your checking, savings and investment accounts

Step 6 – If you would like to add an additional cardholder to the account, you may do so by entering their name in the fields provided. If not, leave them blank and scroll down.

Step 7 – Should you be interested in making one or more balance transfers, enter in the information accordingly, as shown below.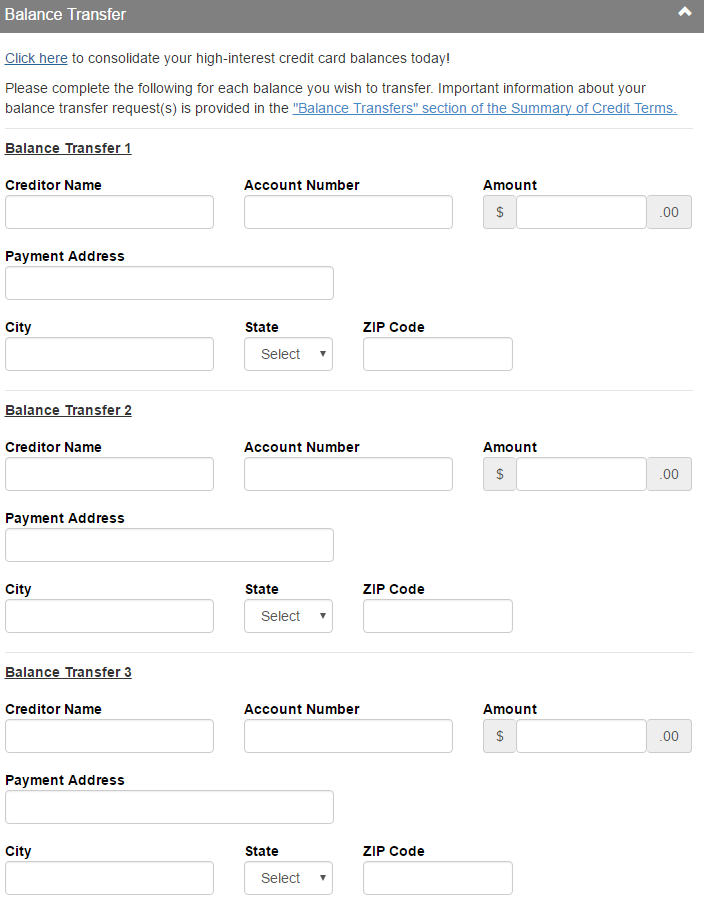 Step 8 – The last step requires you to enter the deposit information, which is obligatory to apply for this card. You must provide the amount of the deposit and from which account, plus the routing and account numbers. Understand that the amount you enter could be withdrawn from your account as soon as this application is approved.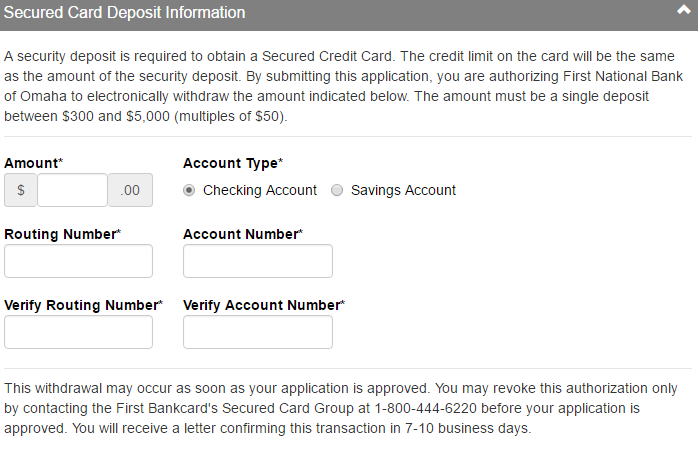 Upon completion of all these steps you can click Continue. After you've read through and accepted the terms and conditions you will have successfully applied for the First National Bank Secured Visa Credit Card. We hope this tutorial was helpful for you and wish you the best of luck!