Card-carrying members of the First National Bank Complete Rewards Visa Credit Card profit from this rewards system by earning a point for every dollar spent. The great thing about these points is that they never expire and there is no limit to how many you can rack up. In addition to that, you will earn 2,500 points and a $50 statement credit after you make your first purchase. The shortcoming of this card is the 23.24% APR, or 16.24% if your score is good (APR is subject to change). At least you will get to enjoy a 0% APR for the first 15 billing cycles and an annual fee of $0. This card might be exactly what you're looking for, this webpage should be used to gain a better understanding of how to apply for the First National Bank Complete Rewards Visa Credit Card.
Take a moment to read through the privacy policy before continuing; it is your responsibility to understand and accept the terms in which First National Bank shares your information.
Requirements
Please double check that you meet the following criteria:
Must be 18 years of age
Must be a citizen of the US
How to Apply
Step 1 – We'll start by going to the First National Bank credit card page found here. Here you'll see all of the credit cards they have to offer, click Apply Now under the Complete Rewards Visa Card.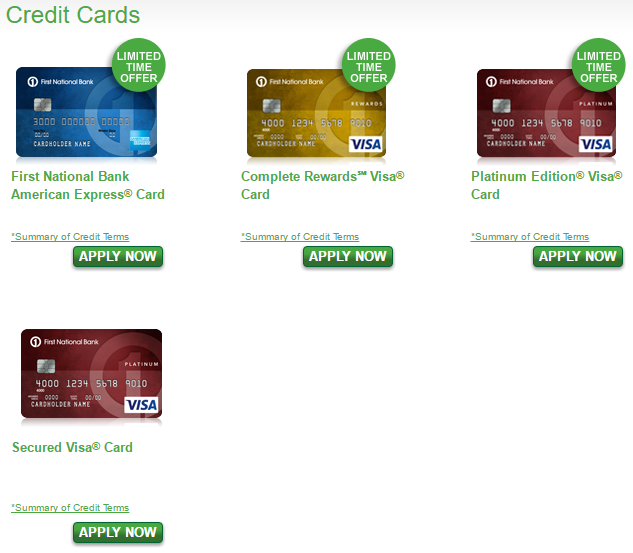 Step 2 – The remainder of the process involves filling out your personal and financial information needed to complete the application. First set of inquiries include the following:
Your name
Address
Phone number
Email address

Step 3 – Additional personal information will be required such as date of birth, social security number and your mother's maiden name.

Step 4 – Now they ask for your housing information. You will need to enter how long you've been living at your current location, if you own or rent your home and how much you pay.

Step 5 – Next you'll need to provide the following:
Current employer
Your business phone number if applicable
Total Annual Income
Funds in your checking, savings and investment accounts

Step 6 – The next fields are not necessary, fill them in only if you would like to add an additional member to your account.

Step 7 – If you would like to make one or more balance transfers, this next section allows you to fill in that information. If this section does not pertain to your needs, leave it blank and click Continue.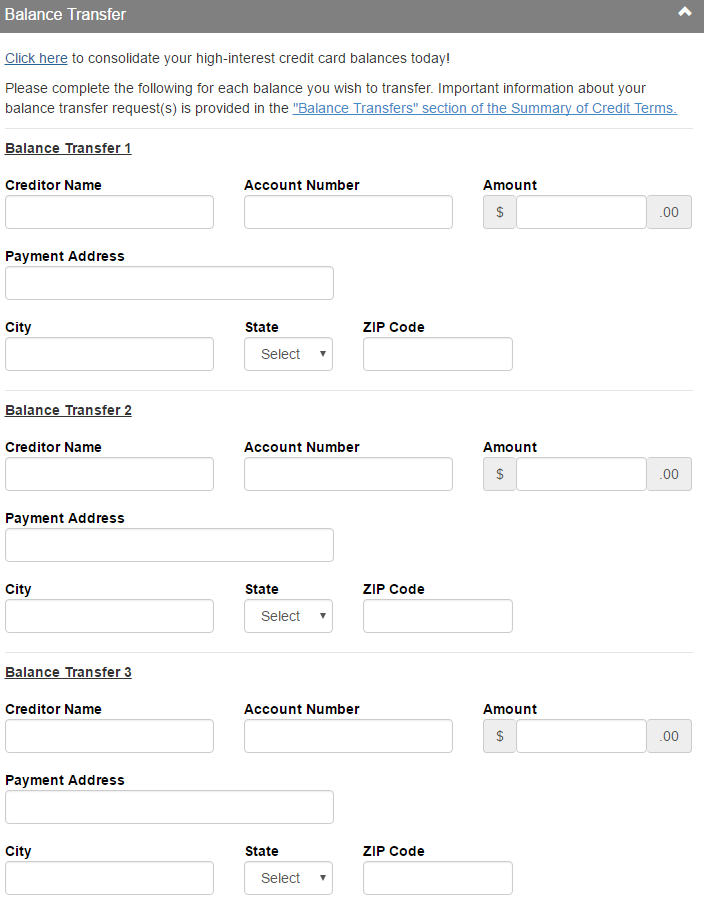 All the steps have now been completed and as long as the information you've entered is correct, your credit card application should be properly submitted. Congratulations! We hope this tutorial has been helpful to you.