The Apple Bank Visa Complete Rewards Credit Card offers cardholders a chance to earn basic rewards points or, if they'd rather, choose to redeem them for a higher reward rate into their checking or savings account. It's a great card for those who like to spend as well as those who like to save. With this card, you could earn 1% back on all purchases, redeemable for gift cards, travel, merchandise or cash back. If you want bigger rewards, you may choose to redeem your rewards into a checking or savings account for a higher value of 1.5%. The best part about these rewards is they never expire! This card also offers a 0% introductory APR for the first 12 billing cycles, after which an APR between 16.24% and 23.24% will apply (APR is subject to change). This is not the one of the lowest interest rates out there, but this card also comes with a $0 annual fee. If the Apple Bank Visa Complete Rewards Credit Card sounds like the right fit for you, apply for yours today by following our short tutorial below.
It would be wise to read through First Bankcard's (the card-issuing company) privacy policy to familiarize yourself with their terms of information sharing.
Requirements
To be eligible for this credit card, make sure you meet the following requirements:
Applicants must be 18 years of age or older
Applicants must have a valid US address
Applicants must have a valid Social Security number
How to Apply
Step 1 – To begin, navigate to the Apple Bank credit card section of the First Bankcard website. The first card on the list is the Apple Bank Visa Complete Rewards Credit Card, click on the Apply Now button to proceed to the application form.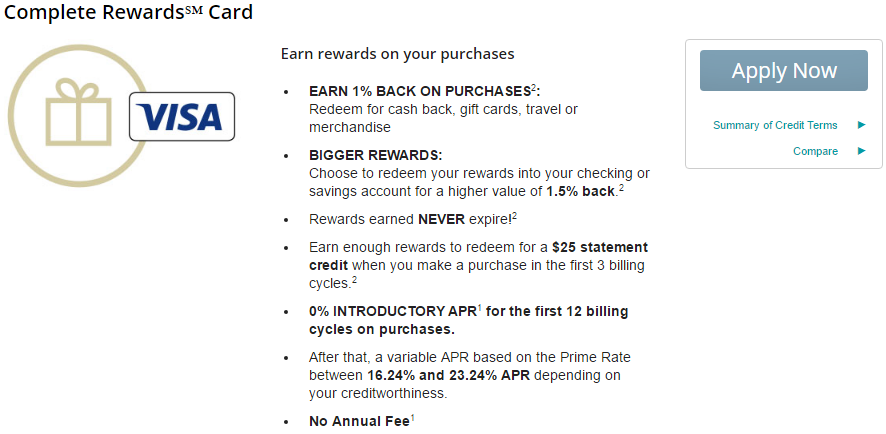 Step 2 – The first part of the application form asks for the following pieces of personal information:
Name
Physical address
Home phone number
Email address

Step 3 – Next, you are required to provide information to confirm your identity. Provide the following information into the appropriate fields:
Date of birth
Social Security number
Mother's maiden name

Step 4 – At this juncture, provide the following information pertaining to your current living situation:
Years at address
Housing status
Monthly housing payment

Step 5 – In order to get a better idea of your current position, financially speaking, you need to supply First Bankcard with the following employment information:
Present employer
Business phone number
Total annual income
Checking account balance
Savings account balance
Investment account balance

Step 6 – At this juncture, you are given the opportunity to make a balance transfer and/or add additional cardholders to the account. To make a balance transfer, click the link within the Balance Transfer section and provide the necessary information. You may add up to 3 balance transfers on this application form. Next, if you wish to add an Authorized User to the account, enter that person's full name. If neither of these options apply to you, skip this step entirely.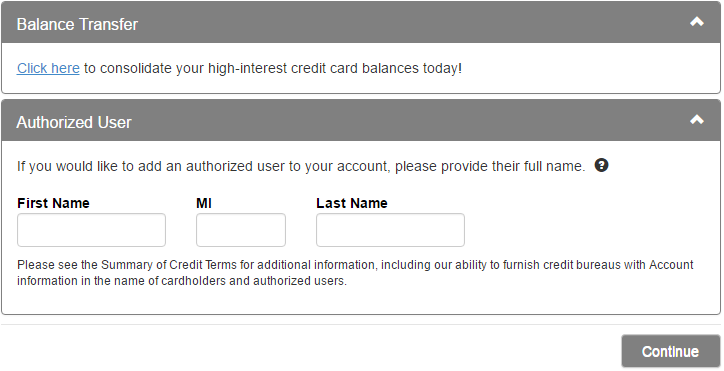 With the application form filled out, all that's left to do is read and accept the terms and conditions and click Continue. Your application for the Apple Bank Visa Complete Rewards Credit Card will now be sent in for review; just sit back and await your approval. We hope this tutorial proved useful to your cause and hope that your submission is a success!