The AmTrust Bank Complete Rewards Visa Credit Card is one of four cards that AmTrust has to offer their prospective cardholders. Each card comes at no cost to the user ($0 annual fee) and offers its own unique benefits and features. For the Complete Rewards Visa Credit Card, you will be part of a cash back rewards program which isn't quite as strong as the program available with AmTrust's Cash Back Credit Card, but still provides users with a 1% return on all purchases. The interest rates for this particular card are quite average; you can expect it to be set somewhere between 16.49% and 23.49%, depending on your creditworthiness (APR is subject to change). If you're not interested in the cash back program and you'd like a card with lower interest rates, take a look at the Platinum Visa Credit Card which boasts the potentially low purchase APR of 10.49% and a maximum of 18.49%. When compared to the other cards offered by AmTrust, the Complete Rewards Visa Credit Card offers the best of both worlds with its cash back program and competitive interest rates. To learn how you can apply, scroll down to our tutorial below.
Your personal information will be submitted to First Bankcard, a third-party entity which has issued this credit card. We recommend reviewing their privacy policy to ensure that you're comfortable with their plans on using the personal information they collect from you.
Requirements
All applicants must meet the following requirements:
Be at least 18 years of age
Have a valid US SSN
Have a valid US street address
How to Apply
Step 1- To begin with your application, navigate to this webpage and locate the Complete Rewards Card. Once you've found the card, select the Apply Now button to proceed.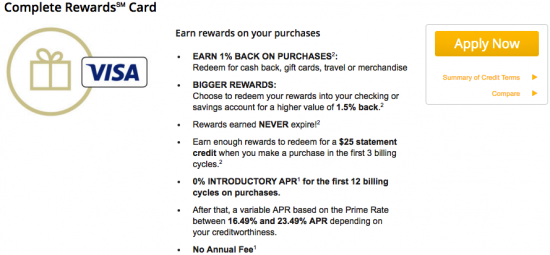 Step 2- On this page, you will need to supply your personal information in each of the empty fields highlighted with an asterisk. Start by entering your First Name, Last Name, Physical Address, City, State, and Zip Code. Next, provide your Home Phone Number and your Email Address.

Step 3- Verify your identity by entering your Date of Birth, Social Security Number, and your Mother's Maiden Name. Just below that, specify your Years at Address, Housing Status, and Monthly Housing Payment.


Step 4- The financial information that you must provide is your Present Employer, Business Phone Number, and Total Annual Income. You may optionally specify the total amounts in your Checking Account, Savings Account, and Investment Account.

Step 5- Here you may perform a balance transfer if you'd like to consolidate your previous balances into one bill. You may also add an authorized user to your account if you so desire. Click Continue when you're ready to proceed.

Step 6- Scroll down towards the bottom of the page until you've reached a message regarding the summary of credit terms. Read over this document to ensure that you know exactly what you're getting yourself into and, if you agree to the terms, indicate this by checking the small box found to the left of the message. Lastly, click the Submit button to finish your application and have it sent in to First Bankcard for review.

That's all there is to the application process! Hopefully you found our tutorial helpful and we wish you the best of luck with your new card.