If you're looking for a straightforward credit card and you reside in New York state, the Glenn Falls National Bank Platinum Edition Credit Card is definitely worth checking out. This card is an affordable credit option, featuring, as it does, a competitively low APR and absolutely no annual fee. As an added bonus, for the first 12 billing cycles, new cardholders get to enjoy 0% interest on purchases, after which their APR will be assigned at its determined rate. We have provided instructions below on how to apply online for the Glenn Falls National Bank Platinum Edition Credit Card. If you would like to apply for this card, scroll down and follow our step-by-step guide.
First Bankcard is the issuer of this credit card. We recommend that you read their privacy policy before you submit your application.
Requirements
Applicants must meet the below criteria in order to be eligible for this card:
Be at least 18 years of age
Have a SSN
Have a valid US mailing address
How to Apply
Step 1 – Start the application process by navigating to the Glenn Falls National Bank credit card page. When the page has loaded, scroll down to the Platinum Edition Card and click the Apply Now link.

Step 2 – You should now be able to view the application form. Start by providing the following information into the indicated fields:
Full name
Complete physical address
Home phone number
Email address
Date of birth
SSN
Mother's maiden name
Number of years at current address
Housing status
Monthly housing payment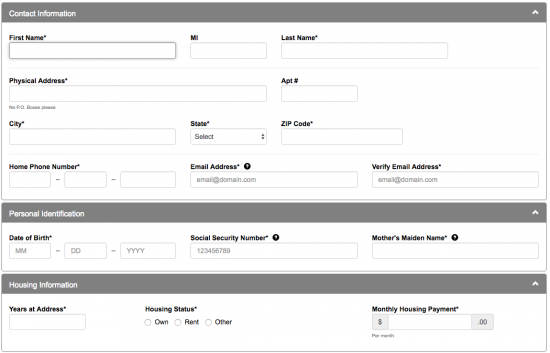 Step 3 – You will then be asked to provide First Bankcard with the following information that pertains to your current employment and financial situation:
Present employer
Business phone number
Total annual income
Checking account balance
Savings account balance
Investment account balance

Step 4 – In the Balance Transfer section, you have the option to consolidate existing balances onto this card. To do so, click on the Click here link and provide the information that is required to make the transfer. Next, if you are adding an authorized user to this account, provide their full name into the appropriate fields before continuing. When you are finished with this step, click Continue to proceed to the final step.

Step 5 – Read over the terms and conditions for this credit card and all of the information that you entered into your application. If all your information is correct and you agree to the terms, tick the checkbox indicating your consent and click Submit to submit your application.


Congratulations, your application has been successfully submitted for review by First Bankcard! We hope that you have found our guide to be helpful, and we thank you for trusting Card Reviews as your credit card expert.