If you're a cardholder of the Christopher & Banks Credit Card, you might already be familiar with Comenity Bank's web portal. Apart from online application, their web portal also offers 24/7 online access to your credit card account. When you register, you'll be able to connect to your account online from any computer, tablet, or smartphone. Once logged in, users can pay bills, view monthly statements, perform changes to their account, and much more. There is also an app available for both iPhone and Android for your convenience. Comenity Bank's website is quite easy to navigate through but if you're having any issues setting up your account, follow our instructions below. We've covered not only how to enroll for a new online account, but also how to log into an existing account and how to activate your new Christopher & Banks Credit Card.
To learn how your information might be used, take a look at Comenity Bank's privacy policy.
How to Login
To gain access to your online banking account, follow this link to get to the Comenity Bank home page. Locate the Sign In box and enter your User Name and Password. Click Sign In and, as long as your login information was entered correctly, you will be logged in to your account and will able to satisfy all of your banking needs.
If you're having any issues logging in, you might need to reset your username or password. To do so, click the Forgot your user name or password? link located within the sign in box. You are required to provide your Credit Card Account Number, ZIP Code and the Last 4 numbers of Social Security Number (or other type of identification). Click Find My Account and on the subsequent pages you will be informed of how to regain access to your online banking account.

Activation/Registration
In case you haven't already activated your new credit card, we have provided the activation number above for your convenience. After the activation process has been completed, you might want to take a minute to register for Comenity Bank online account access. Click the Secure Registration link below the activation number to begin the enrollment process. First you'll need to provide the following pieces of information to confirm your identity:
Credit card account number
Zip code
Last 4 digits of Social Security number (or Social Insurance number)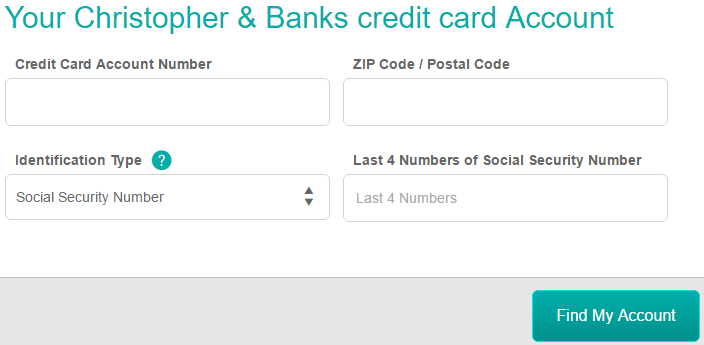 Next, you need to create a User Name and Password. Comenity Bank also asks that you provide some contact information. Enter your Email Address and Mobile Phone number into the spaces provided and click Create Account. You can now log into your account using your newly created username and password.
We hope these instructions were easy to follow and helped you achieve your banking goals for today. Good luck!