If you recently acquired the Carter Lumber DIY Credit Card, did you know that you can manage your finances online by registering for an online account with the card-issuer, Comenity Bank? Registration is quick and easy, and once your account is registered, you can log in on any personal computer or smart device and take advantage of an array of financial tools. These tools provide you with the ability to view your statements, make bill payments, review your transaction history, update your profile, and generally keep your account up-to-date. To help you get off on the right foot with managing your account online, we have provided an online banking startup guide below. If you just received your credit card in the mail and need to activate your card or register for online account access, scroll down to the Activation/Registration section further down the page. Otherwise, for information on how to login or retrieve your login credentials, consult the How to Login section directly below.
Before you continue, read the Comenity privacy policy to see how they protect and share your information online.
How to Login
To get started, navigate to the Carter Lumber credit card page and find the Sign In window. Once you have located the appropriate window, enter you User Name and Password into the blank spaces before clicking the Sign In button. If your login credentials were entered correctly, you should now be looking at your personal account homepage.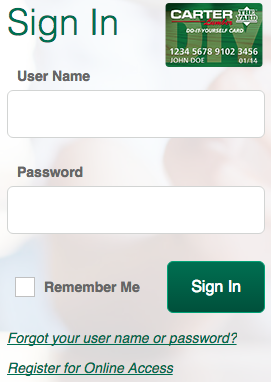 If you can't remember your username or password, you can regain access to your account by locating and clicking the Forgot your user name or password? link below the sign in field. Next, on the login retrieval page, you will be asked to enter your Credit Card Account Number or User Name, your ZIP Code/Postal Code, and your SSN or SIN. Click Find My Account, and in the pages that follow you will be able to retrieve your forgotten username or change your password and, in turn, regain access to your account.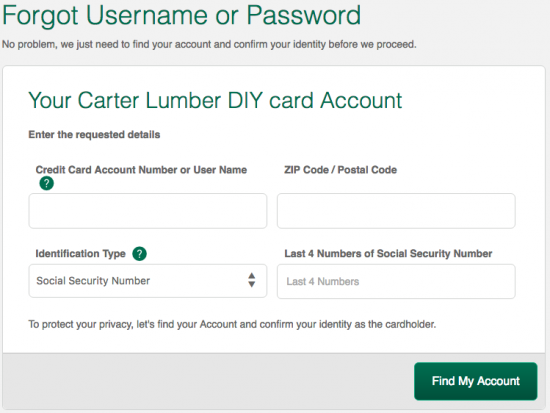 Activation/Registration
If your card is not yet activated, call the activation number above and get your card up and running with the aid of a Comenity representative. Now that your card is activated, why not register for online access to your new credit card account? To register, click the Secure Registration link located above the activation number and provide the following information on the registration page before clicking Find My Account:
Credit card account number
ZIP code/postal code
Social Security Number/Social Insurance Number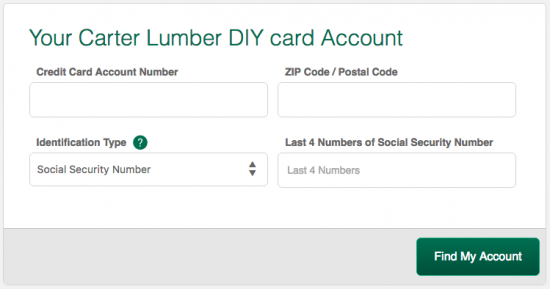 Next, provide the following information in the Create Account section:
User name
Password
Email address
Mobile phone number
Click the Create Account at the bottom of the window to save your designations and complete the registration process.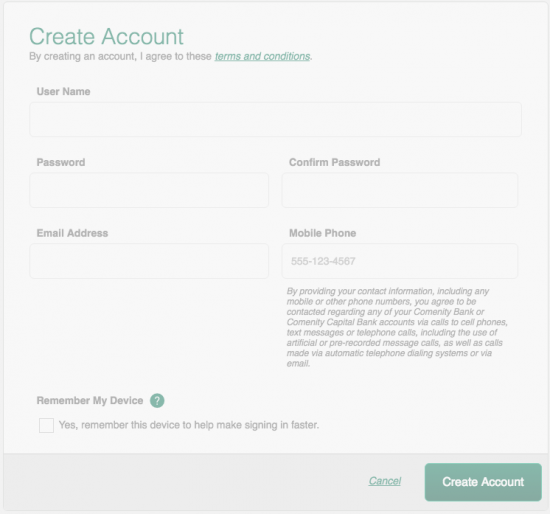 That's all there is to it! Your card is now activated and registered for online access with Comenity Bank. We hope that you enjoy your new credit card and we thank you for visiting Card Reviews. Happy banking!