If you want to be able to view your First Internet Bank Cashback Credit Card account at your own convenience and keep it up-to-date, you will need to be registered for online banking with First Internet Bank. By using their online services, you can manage your cashback rewards, view your statements, pay your bills, review your purchase history, perform balance transfers, and update your personal information. Near the bottom of this page, you will find information on how to active a new card and register for online banking. If you already have online access to your account and just need assistance with logging in, we have provided a guide below on how to log into your account and how to retrieve your login credentials if have difficulty accessing your account.
Before continuing, we recommend that you review the First Internet Bank privacy policy to learn how they plan on sharing and protecting your personal information.
How to Login
To log into your account, you will need to go the First Internet Bank homepage and locate the Login tab in the top right-hand corner. Click this tab and the Personal Online Banking window will appear. Enter your Username and Password into the appropriate spaces before clicking Login to be granted access to your account.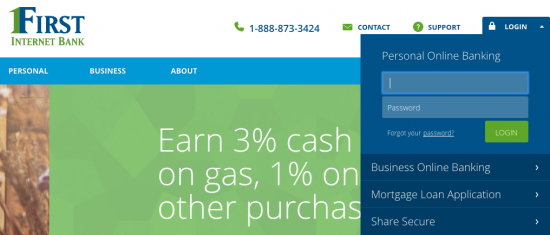 If you can't remember your online banking password, open the login window and click the Forgot your password? link beneath the password field. On the Can't access your account? page, you will be asked to enter your Phone number and Username into the indicated fields. Click Send me a new password and a temporary password will be sent to your telephone or email. You can use this temporary password to log into your account and update your password as you please.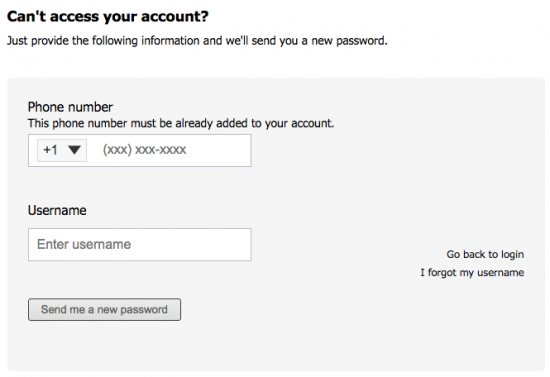 In the event that you have forgotten your username, you can retrieve it by clicking the I forgot my username link (found in the forgotten password window as in above example). You will then be asked to provide your Email before clicking send, to have your username sent to your email address.

Activation/Registration
To activate your credit card, call the activation number above and you will be able to get your card ready for making purchases with the assistance of a First Internet Bank representative. Registration for online banking with First Internet Bank can be performed at the end of the application process, however, you can also register for online banking by printing and signing the Online Banking Access Agreement. Then, send the completed form to them via email at bank@firstib.com or fax it to 1 (888) 644-8678. They will send you back an email with all of the information you will need to be able to manage your account online.