The Commerce Bank Miles Credit Card features no APR for the initial 6 billing cycles and has no annual fee. It also has a rewards program that allows cardholders to trade in points they accumulate for merchandise and promotional bonuses.
This page explains how one can login to their Commerce Bank Miles Credit Card online account. If you have never logged in before, this page also explains how you can securely activate your card and gain access to the online portal.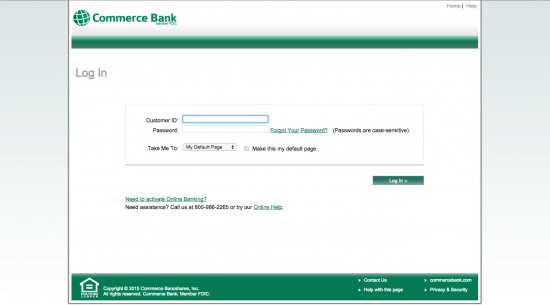 Make a Payment
Making a payment is easy with your Commerce Bank Miles Credit Card. Simply access the login page by clicking the "Secure Login" button on this page and enter your customer ID and password in the empty boxes. Determine which page you would like to land on before clicking the green "Log In" button. You should now be on your personal account page. In addition to paying bills, you can also adjust your credit card's settings and order a new card if need be.
Activation
If this is your first time trying to login to your account, you will have to activate your card. You can begin by clicking "Secure Activation" above. Next you need to read and review the Terms and Conditions associated with using your new Commerce Bank Miles Credit Card online. At the bottom of the terms click "I accept".
The next step is to select "Credit Card" from the list provided. Click "Continue".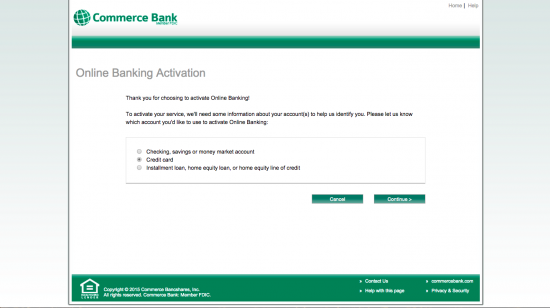 Now you are required to fill out some information about yourself for security purposes and to identify yourself. The information includes:
Your social security number
Your account number
The security number on your credit card
Name as it appears on the card
The amount of your last purchase
ZIP code
Email address
The enrolment code (this is optional)
Finally, click "Continue" and your card is all ready to be used online.