Frequent fliers on Miles and More partner airlines (Lufthansa, Austrian Airlines Group, LOT Polish Airlines, Swiss International Air Lines, Adria Airways, Croatia Airlines, Condor Flugdienst, Luxair, Brussels Airlines, Germanwings, Star Alliance members, Air Astana, Air Malta, Jet Airways) May well be interested in the Lufthansa sponsored Miles and More Premier World Mastercard, a milage card with a competitive rewards program. If you are interested in applying we have laid out a step-by-step tutorial just below to facilitate the process.
Before beginning the application please read over Barclaycard's privacy policy, as they are the corporation powering the credit card. They may take liberties with your information that you find unsavory or inappropriate.
Requirements
Ensure that you meet these basic requirements Barclaycard has put in place before beginning the application.
Be at least 18 years of age
Have a valid US mailing address (no PO boxes)
Have a valid Social Security number
How to Apply
In order to navigate to the secure application page you must first venture to this webpage and click 'Apply Now.'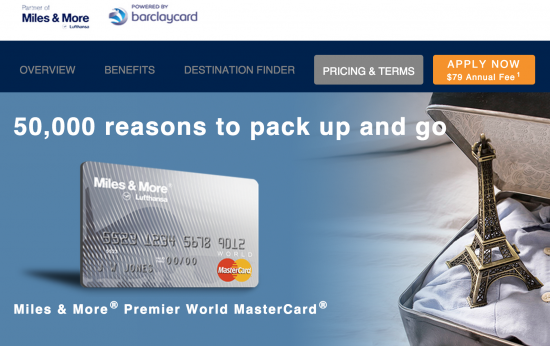 Step 1- General Information
In the first segment of the application you will be asked to enter some basic identifying information. The specific information you will need to have on hand is as follows:
Full name
US address
Duration at current address
Residence status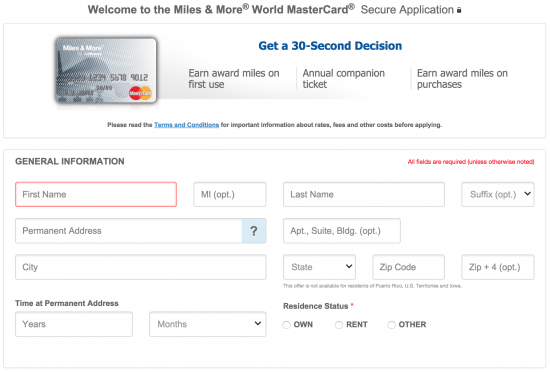 Step 2- Employment and Financial Information
In order to construct a financial profile for you Barclaycard requires some basic financial information, consisting of your occupation, annual salary, and bank accounts held.

You can, at this point, opt for an express delivery of your credit card to your home address should you be approved. The service will cost you $15 if you choose to purchase it.
Step 3- Contact Information
At this point you will be required to submit at least one phone number and a working email address to Barclaycard so that, ostensibly, they can contact you in regards to your account proceedings. They do, however, reserve the right to contact you for solicitations and promotional offers.

Step 4- Security Information
Barclaycard, at this interval, will ask you to provide your Social Security number, mother's maiden name, and birthdate into the provided secure fields.

Step 5- Paperless Statements
Barclaycard offers an electronic billing option to reduce environmental and bureaucratic waste. We recommend this option for the same reasons. If you approve the Terms and Conditions of this offer please enrol in paperless billing. If you would refer a bill delivered by mail this is of course an option as well.

Step 6- Miles and More Card Number
If you are already enrolled in the Miles and More program you may enter your member ID in the provided field. There is a link available in case you are not a member and would like to enrol. Your ID will appear on your card.
Step 7- Balance Transfers
Barclaycard provides, at this step, a service by which you can transfer a balance up to $20,000 from any major credit card onto your new credit card, should you be approved. The Terms and Conditions for this service are available here.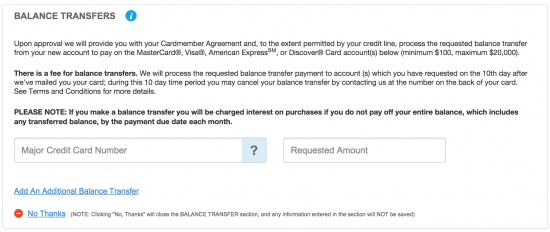 Step 8- Legal Terms and Conditions
After reviewing the credit card's Terms and Conditions, and if they meet your approval, submit your application for evaluation by Barclaycard. you should be notified instantly if you have been accepted.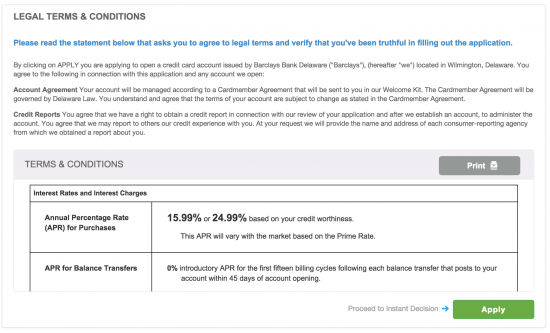 For more information please feel free to watch the video below.