Barclaycard offers a series of competitively designed credit cards through brand affiliates and through it's own operation. One such card is the Barclaycard Rewards Mastercard, the application process for which is laid out below.
It is important to fully understand Barclaycard's position on personal data and privacy before submitting vital information through the course of the application. In many ways, this is your most valuable contribution to Barclaycard, and you should read the privacy policy thoroughly to find out for yourself exactly how your information might be subject to monetization.
Requirements
Ensure that you meet the following requirements before applying:
Be at least 18 years of age
Have a valid US mailing address (no PO boxes)
Have a valid Social Security number
How to Apply
The application process, carried out on a secure website hosted by Barclaycard, is only accessible through this preliminary site which, helpfully, displays the rewards in full that you can expect to earn once you've been approved for the card.

Simply click 'Apply now' to begin the application.
Step 1- General Information
To get the ball rolling simply enter some basic personal information in this section. The specific information you will be required to enter is what follows:
Full name
US address
Duration at current address
Residence status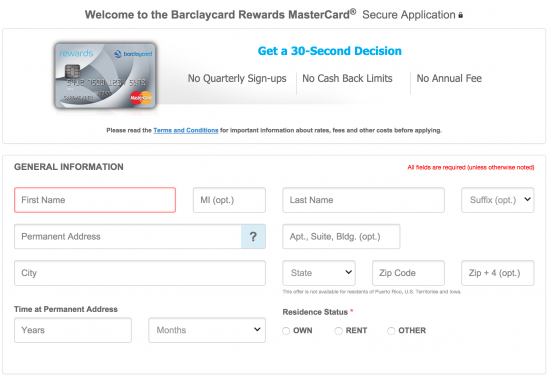 Step 2- Employment and Financial Information
You will be asked at this point to surrender basic financial information in order for Barclaycard to properly construct a financial profile for you, a tool that will aid them in eventually evaluating you as a potential cardholder. Please provide your occupation, total annual income, and your bank account holdings.

You may at this time opt in for an express delivery of your card to your home, should you be approved. The service costs $15.
Step 3- Contact Information
In addition to affirming your status as a US citizen, this stage in the application also requires you to surrender at least one phone number and a functioning email address. Keep in mind that Barclaycard reserves the right to contact you at these provided outlets should they need to discuss your account or make you aware of upcoming promotional offers.

Step 4- Security Information
Enter your Social Security Number, mother's maiden name, and birthdate into the secure fields at this juncture.

Step 5- Paperless Statements
Assuming that you want to reduce environmental waste, and that you assent to these paperless disclosures, feel free to opt for paperless, electronic billing at this stage.

Step 6- Balance Transfers
All Barclaycards offer a service by which, during the application, you can set up a pre-existing balance (between $100 and $20,000) on any major credit card to be transferred onto your new Barclaycard credit card, should you be approved. Perform this action here if you so choose.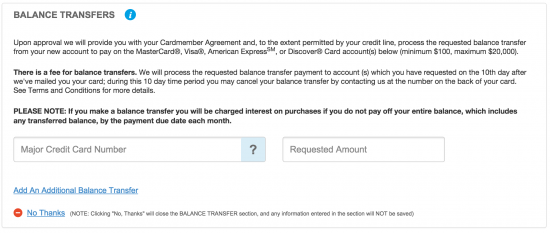 Step 7- Legal Terms & Conditions
Please read the Terms and Conditions carefully before finalizing your application. Once you have, click 'Apply' and await your credit evaluation from Barclaycard.