The Barclaycard Ring Mastercard is somewhat of an anomaly in the world of credit cards. It features incredibly low APRs (8.25%) and a suspicious lack of fees, yearly, foreign transaction, and balance transfer. The key to the profitability of the card seems to be tied to the Giveback program by which cardmembers allegedly share in Barclaycard profits. The program is a little less gentle than the initial advertising on the Barclaycard site would suggest, however. The full description of the program, lifted directly from the cards Terms and Conditions, is as follows:

If this seems like the kind of program you are interested, please continue reading for a step-by-step tutorial which will guide you through the application process.
Before begging the application, please note that Barclaycard reserves the right to take certain liberties with your personal information. For a complete outline of these liberties please read over the privacy policy.
Requirements
Before applying ensure that you meet the following criteria:
Be at least 18 years of age
Have a valid US mailing address (no PO boxes)
Have a valid Social Security number
How to Apply
The secure application, hosted by Barclaycard, is available at this webpage. Simply click 'Apply now' to be transferred to the form.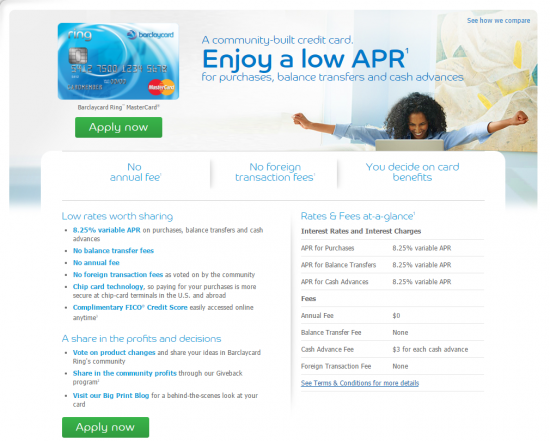 Step 1- General Information
Enter the following information regarding your residence and name in this, the first section of the application:
Full name
US address
Duration at current address
Residence status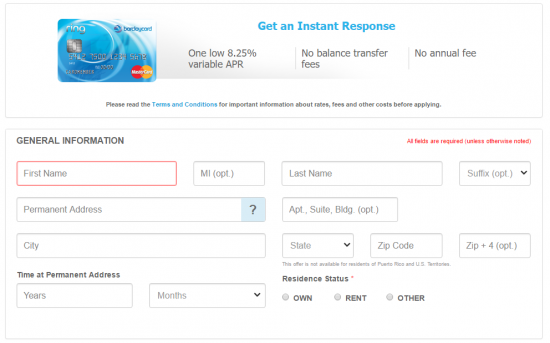 Step 2- Employment and Financial Information
Barclaycard must first build a financial profile for you before they can go about assessing your creditworthiness. In order for them to do this you must submit some basic financial information, including your annual income and occupation, at this stage of the application.

You may also at this time opt in for an express delivery of your card right to your doorstep. this service will cost $15 should you choose it.
Step 3- Contact Information
Barclaycard is now asking for at least one phone number and a functioning email address, both of which they may legally use to contact your about your account or with special offers.

Step 4- Security Information
You must, at this point, provide, in the secure fields, your mother's maiden name, your birthdate, and your Social Security number.

Step 5- Paperless Statements
We encourage all new cardholders to opt for paperless billing in order to reduce environmental and bureaucratic waste. If you consent to the paperless billing terms then please choose this option and move on. If you would rather get an old-fashioned bill in the mail each month you are free to do so as well.

Step 6- Balance Transfers
Barclaycard offers a balance transfer service, subject to these terms and conditions, by which you may transfer a pre-existing balance from any major credit card onto your new Barclaycard credit card the very second you are approved. The balance may range from $100 to $20,000. This service is optional and can be skipped entirely should you choose to do so.

Step 7- Legal Terms and Conditions
Before clicking 'Apply' and officially sending in your application for review, please read thoroughly the Terms and Conditions associated with this card to ensure they comply with your financial circumstances.