Applying for the Coors Credit Union Visa Credit Cards is challenging, but not impossible. We've created an in-depth guide to help you through it, should you choose to apply. Before beginning you will want to decide which card, the Visa Summit or Visa Rewards, is best suited to you. A breakdown of the rates of the two cards is available below.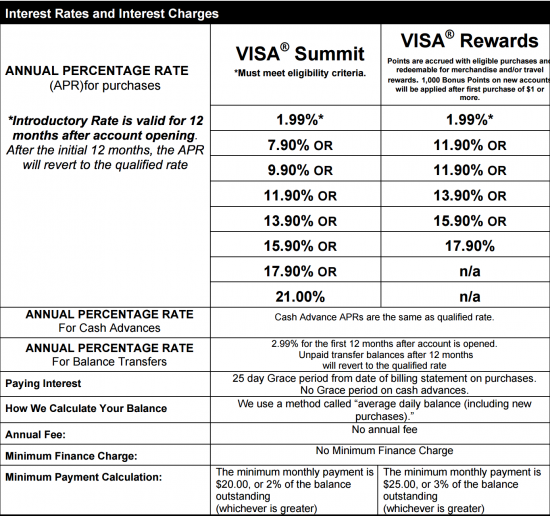 Once you've decided, take a look at the Coors Credit Union privacy policy and, if you assent, continue on to the application.
How to Apply
Applicants will find the secure application available from the Coors card summary page. Once there, select the red apply for a credit card link.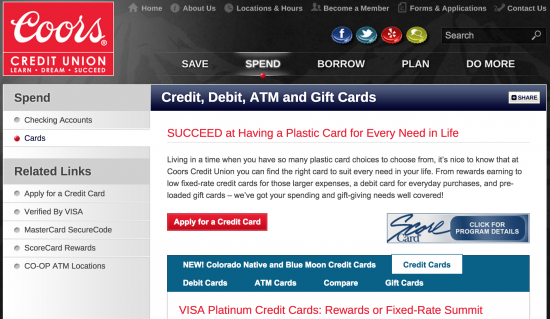 The actual application form is still far off, you will have to jump through a series of hoops before reaching it, the first of which is account creation. Input and confirm an email and desired password to continue.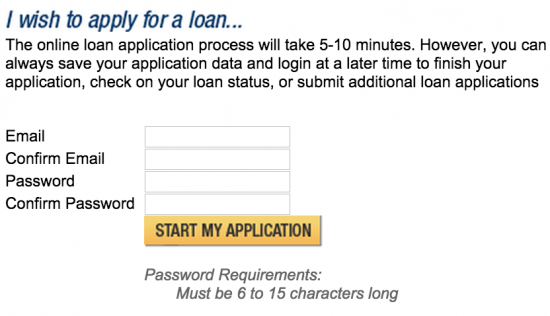 You will now have to select a series of security parameters before being able to continue including an image, a phrase, and 5 questions.
You must also decide whether or not you would like your computer registered to enable you to skip the security questions upon your next login.

Next, you will have to consent to their Electronic Communication disclosure, pictured below.
So close! Select the small, blue apply for a credit card link on the left side of the page you are now on to get to the application form.

Step 1- Preferred Branch
Indicate which Coors Credit Union branch is most conveniently located to you.

Step 2- Personal and Identification Information.
Enter the following information into the provided fields:
Full name
SSN
Date of birth
Member number (optional)
Membership duration (optional)
Phone number
Email address
Preferred contact method
Drivers License number, state, issuance and expiry dates
Current address
Home status
Duration at address
Step 3- Additional Questions
Indicate if you will make payments using automatic transfer and if you would like to make your visa card secured. You may also add a co-applicant at this point.
Step 4- Financial Information
Entering the following financial information here:
Employment status
Job title
Employer
Supervisor name
Term of employment
Years in profession
Employer contact information
Monthly income
Monthly expenses
Step 5- Declarations
Answer the following eight questions truthfully in the 'yes or no' format.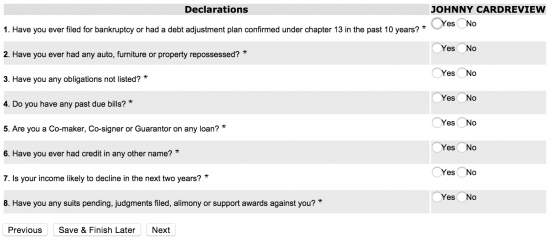 Step 6- Review Terms and Submit
Review the terms and conditions (not available at this point in the actual application) and the information you've submitted and, if everything appears to be in order, submit.