The Union Bank Visa Card is Union Bank's lowest interest credit card which means, as is so often the case, that there is no rewards program associated with the card. For all of your net purchases and balance transfers, your APR will be between 10.24%-20.24%, depending on your creditworthiness (APR is subject to change). However, for the first 12 billing cycles, you will receive an introductory 0% APR on both purchases and transfers. What this card is lacking is the ability to earn rewards points which could be used for savings on travel, merchandise, or even the reduction of your statement credit. If you're interested in rewards, we suggest looking into the Union Bank Rewards Visa Card. Both the standard Visa card and the rewards Visa card have no annual fee, though the balance transfer fee found on the standard card has been reduced by 2%. If you have no desire to earn bonus points and you'd like the lowest rate possible, you might find the Union Bank Visa Card a worthy acquisition. Scroll down to find out how you can apply.
Before applying, take a moment to review Union Bank's privacy policy to see how they plan on using your personal information.
Requirements
The following requirements must be met in order to be eligible for this card:
You are at least 18 years of age
You have a valid SSN
You reside in the United States
How to Apply
Step 1- To begin the application process for the Union Bank Visa Card, navigate to this webpage. You should see the Get Started Now menu on the left side of your screen. Click on the Apply Now link to proceed.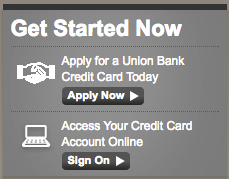 Step 2- On the application page, the first thing you'll have to do is specify the type of card you would like to apply for. Use the drop-down menu to select Union Bank Visa Card from the two available options.

Step 3- Next, you will need to supply some personal information into the appropriate fields. Start by supplying the following:
First name
Last name
SSN
Primary phone number
Email address
Mother's maiden name
Date of birth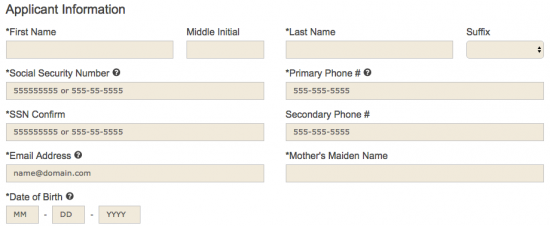 Step 4- Under Physical Address, provide your Address Line 1 (street address), City, State, Zip Code, and specify whether or not your mailing address is different than your physical address. If it is, provide your full Mailing Address as well.


Step 5- Continue by providing your Employment and Financial Information. Use the drop-down menu to specify your Employment Status and enter-in your Employer Name and Years at Employer. Just below that, check the small box if you are a principal shareholder, director, or officer of a bank or other financial institution. Before proceeding, specify your Housing Status and supply your Monthly Housing Payment and Total Annual Income.

Step 6- At the bottom of the page, you are able to add an authorized user to your account. You may also perform a balance transfer if you wish which will result in the consolidation of your previous balances into one bill. Click Continue when you're ready to move forward.

Step 7- Before submitting your application, we recommend reviewing the summary of credit terms in order to get a better grasp of what it is you are applying for. If you agree with these terms, check the small box to provide consent and click Submit Application to proceed.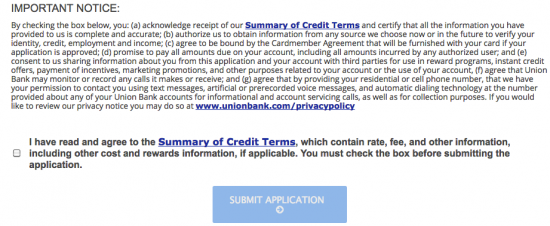 Now that you've completed the above steps, you card request has been submitted and confirmation regarding the acceptance of your application should be received shortly. Best of luck!