The DCU Visa Platinum Secured Credit Card is a great option for those looking to establish or improve their credit. You need a DCU savings account to apply for this credit card and the amount you put into the account determines your credit limit. There are some great perks attached to this card, including a low interest rate, low transaction fees, as well as all the benefits that come with a Visa Platinum card. At the time of this entry, the APR is at 12.00% (rates will vary with time) which is very good. There is no annual fee, no balance transfer fee, no cash advance fee, and no foreign currency transaction fee. With a secured Visa, you won't have to worry about missing payments or going over your limit because your card is attached to your DCU savings account. It's also possible to be eligible for an unsecured credit card once your credit improves enough over time. Overall this could be an excellent option for someone eager to start building their credit history. You can apply for the DCU Visa Platinum Secured Credit Card today by following our tutorial below.
It would behoove applicants to read through DCU's privacy policy before submitting any personal or financial information into the application form.
Requirements
The following criteria is required to be eligible for this credit card:
Applicants must be 18 years of age
Applicants must have a U.S. address
Applicants must have a SSN
Applicants must have a DCU savings account
How to Apply
Step 1 – Begin the application process by navigating to DCU's credit card page. Locate the DCU Visa Platinum Secured Visa Credit Card and click the yellow Apply Now button.

Step 2 – You must supply an Email Address, create a Password and click Begin Application in order to get to the next step. The email and password will be used to log in if you don't finish your application in one sitting, or to check on the status of a completed application.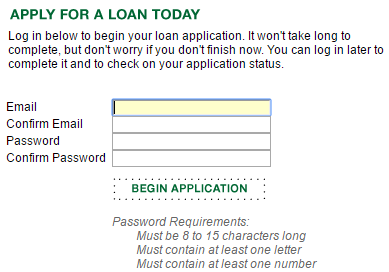 Step 3 – To get to the proper application form, click Apply for a Secured Credit Card.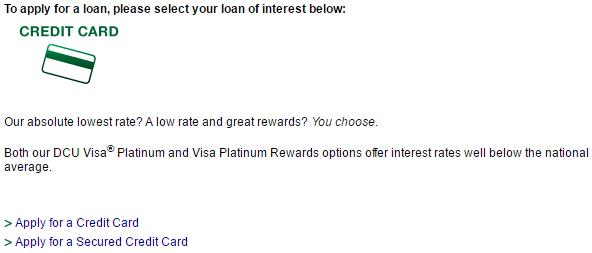 Step 4 – The first section includes selecting the DCU branch that is most convenient for you and selecting the purpose of your application.

Step 5 – Begin filing out your Personal Information starting with First Name, Last Name, SSN, and Date of Birth.

Step 6 – Next, your Home Phone, Cell Phone, Email, and Preferred Contact Method.

Step 7 – Fill in the necessary fields under the Current Address section and select one of the options from the drop down menu next to How are you occupying this location?. You must also enter the number of years and months you have resided at this address.

Step 8 – Select either Yes or No in the Member Protection Plan and Co-Applicant Option sections, then click Next to continue.

Step 9 – This part of the application form requires Employment Information, including Employment Status, Profession, Employer, and Length of employment.
Step 10 – In order to understand your financial situation, DCU asks for your Gross Monthly Income, plus any additional income you receive.

Step 11 – The last section on this page pertains to your expenses. Enter your Monthly Rent as well as any Alimony, Child Support, or Other Expenses you might have. Click Next to proceed to the last step.

Step 12 – Finally, read through the terms and conditions and click I agree if you accept them.

Well done! Your application will be sent in for review. We hope your application is a success and we hope that our tutorial was of some help to you through the application process.