If you are having difficulty being accepted for a credit card or need to rebuild your credit score, acquiring a secured credit card is probably your best option. Providing that you meet the minimum requirements, your application is almost certain to be accepted. The Berkshire Bank Secured Visa Card is one such secured credit option. During the application process, you will make a security deposit which will establish a credit limit which is equal to the amount deposited amount. If you get behind in paying your monthly balance, the card-issuer will be able to draw upon this deposit to pay off your balance owed thus preserving and improving upon your credit score. This credit card has an annual fee of $35 and a high APR of 21.49% (APR is subject to change), which is pretty normal for a secured credit card. By making purchases with this credit card and keeping up with your monthly payments, you will be able to build a better credit score and apply for a credit option with a better interest rate and plan. If you would like to apply for the Berkshire Bank Secured Visa Card, scroll down and follow our step-by-step guide.
Before submitting any personal or financial information, we recommend that you consult the card-issuer, Elan Financial Service's (EFS) privacy policy.
Requirements
To be eligible for this credit card you must meet the following criteria:
Be at least 18 years of age
Have a valid US address
Have a valid SSN
Make a deposit of $300 to $5,000
How to Apply
Step 1 – To begin, navigate to the Berkshire Bank credit card suite page. Once there, scroll down until you find the Visa Secured Card option, and click the Apply Now link.
This pop-window will appear to notify you that you will be leaving the Berkshire Bank website. Click Continue.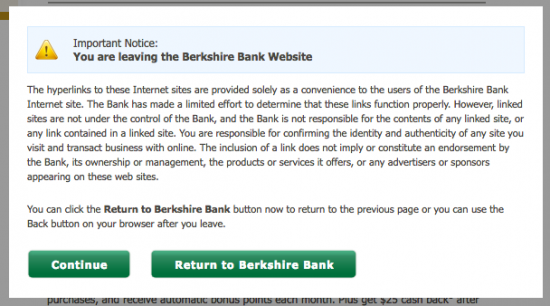 Step 2 – On the EFS-hosted Berkshire Bank credit card page, locate the Secured Visa Card option and click the Apply Now link to continue to the next step.

Step 3 – Next, select whether you would like to pay your security deposit by using an online banking account or by sending a cashier's check/money order by clicking the Get Started button beneath your desired option.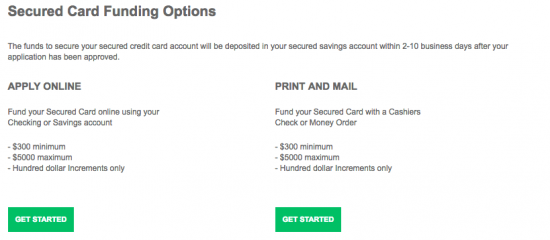 Step 4 – Begin filling out your application by entering the following Personal Information:
Full name
Date of birth
SSN or Tax ID #
Country of citizenship
Alternate country of citizenship
Country of permanent residence
Primary and mobile phone number
Email address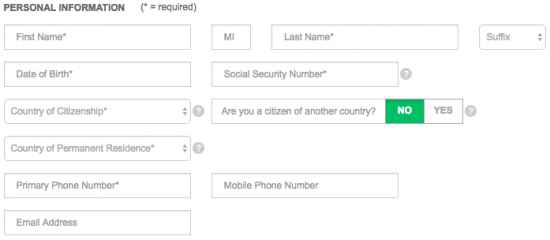 Step 5 – Next, you will be asked to supply all of the below information into the Housing Information section.
Street address
City
State
ZIP code
Time at address
Housing status
Monthly payment
Alternate mailing address (if applicable)

Step 6 – In the Income and Employment Information section, all of the below information must be provided:
Employment status
Employer
Occupation
Annual income
Other income (if applicable)
Below that, if you are a current customer of Berkshire Bank, select Yes beside each account or service that you have with them.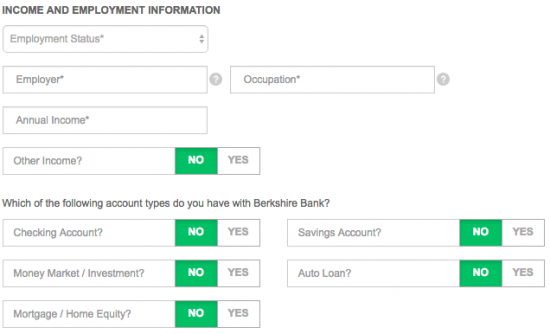 Step 7 – Here, if you would like to add a Joint Applicant, select Yes and provide the necessary information.

Step 8 – At this juncture, you will have to provide the following information in order to make your mandatory security deposit:
Funding account type
Account number
Routing number
Funding amount ($300-$5,000 in increments of $100)

Step 9 – Now enter your SSN/Individual Tax ID # into the indicated field and tick the little box that certifies that this is your correct information.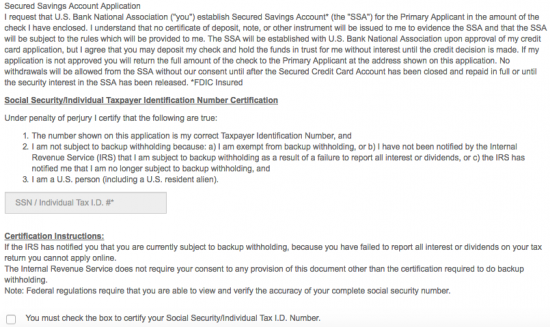 Step 10 – Review the terms and conditions for this credit card to ensure that you fully understand what you are getting into. If you wish to proceed, tick the box marked I accept the Terms and Conditions and click Submit to submit your application for review.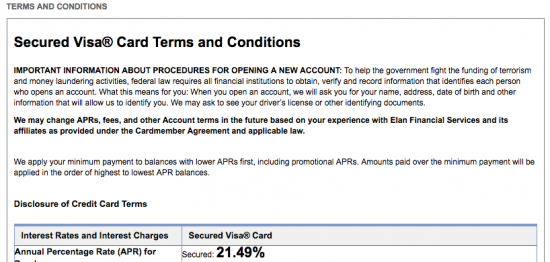 Your application is now completed and submitted for review! Now you just have to sit back and wait for a response from EFS (which can take up to 5 business days). We wish you the best of luck with the result and we thank you for trusting Card Reviews as your credit card experts.