Are you looking to acquire a new credit card but you're afraid of going over your limit or being unable to keep up with your payments? A secured credit card is a good option for anyone with either a poor credit score, no credit history, or for someone who doesn't trust themselves to be responsible with paying off their monthly balance. If you fall into any one of these categories and you are a Florida resident, take a look at the Amtrust Bank Secured Card. Unlike many other secured credit cards, this option demands no annual fee. It also has what most would consider a standard APR for a card of this variety at 20.24% (APR is subject to change). Your credit limit will be set at 10% less than a mandatory security deposit of an amount of $300-$5,000 deposited from your checking or savings account upon application. If you ever get behind with paying your balance, then the bank has the right to draw from you deposit keep your account from going over-limit. Does this all sound good to you? If so, scroll down and follow the instructions provided below to apply for the Amtrust Bank Secured Card today!
Before submitting your personal and financial information on their website, we recommend that you read through First Bankcard, the card-issuer's, privacy policy.
Requirements
Applicants must meet the following requirements to be eligible for this credit card:
Be at least 18 years of age
Have a valid SSN
Have a valid US mailing address
Make a security deposit of $300-$5,000
How to Apply
Step 1 – To access the application form for this credit card, go to the Amtrust Bank credit card summary page. Once there, scroll down to the Secured Card option and click the Apply Now link.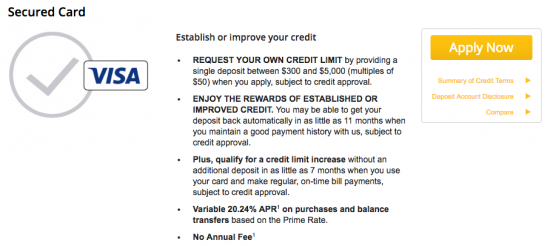 Step 2 – You should now be seeing the application form. Begin filling it out by providing the following contact information:
Full name
Physical address (including city, state and ZIP code)
Home phone number
Email address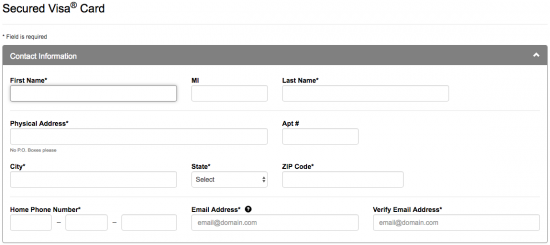 Step 3 – Next, you will be required to enter the following personal and housing information where indicated:
Date of birth
SSN
Mother's maiden name
Years at address
Housing status
Monthly housing payment

Step 4 – In the Financial Information section you will be asked to supply the employment and financial information listed below.
Present employer
Business phone number (optional)
Total annual income
Checking account balance
Savings account balance
Investment account balance

Step 5 – If you want to add another cardholder to your account, you may do so here by entering their full name into the blank spaces.

Step 6 – At this juncture of your application you must enter the following details pertaining to the aforementioned security deposit:
Amount ($300-$5,000 in multiples of $50)
Account type
Routing number
Accounting number
When you have completed filling out the above information, click Continue to proceed to the last step.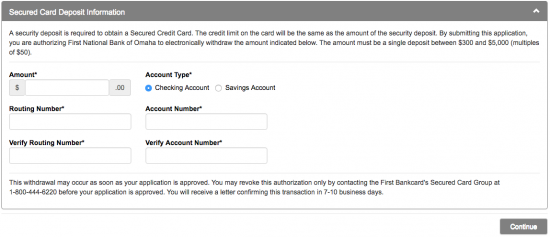 Step 7 – Now, review your application and read over the terms and conditions for this credit option. If you agree to the terms, locate and check the little box that attests your agreement to said terms, and click Submit to finish the application process.

That's all there is to it! Your application is complete and submitted for review by First Bankcard. We hope that our guide has helped you to complete the application process with minimal confusion and we thank you for visiting Card Reviews. Take care!