Enrolling in online banking is a great way to manage your newly acquired Denver Broncos Extra Points Credit Card. The tutorial found on this webpage will guide you through each step of the online account registration process, which involves you activating your card and supplying some personal information online. With your account created, you can log into Barclaycard's secure banking portal in order to take full advantage of the variety of tools they've provided to assist you with the management of your personal finance. You'll be able to instantly review your bank statements, pay an overdue balance, update your personal information, or transfer funds. Scroll down to learn how you can begin banking online today with your Denver Broncos Extra Points Credit Card.
We suggest that before proceeding, you review Barclaycard's privacy policy to learn how your personal information will be used.
How to Login
Navigate to Barclaycard's online banking page to begin the login process. You should see the Cardmember Login menu on your screen. Supply your username and password into the empty fields and click Continue. If this step was correctly executed, access to your online banking account will be granted.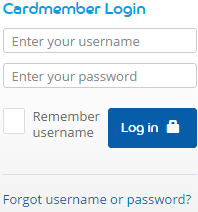 If you have forgotten either your username or password, Barclaycard has designed a system through which you can recover your login credentials. Start by clicking on the Forgot username or password? link found on the main login page. Next, supply the Last 4 digits of your social security number, your Date of birth, and Account number. Once you've supplied the requisite information correctly, click Continue and follow the remaining directions on the subsequent page to recover your forgotten login credentials.
Activation/Registration
To activate your card, simply call the number located just above this paragraph and follow the instructions provided over the phone. With your card activated, you may begin the enrollment process for your online account by clicking on the Secure registration link located below the activation phone number. On the enrollment webpage, enter-in the following information before clicking Continue:
Last 4 digits of your SSN
Date of birth
Account number
Are you a US citizen? (y/n)
Desired username
Desired password
Re-enter password to confirm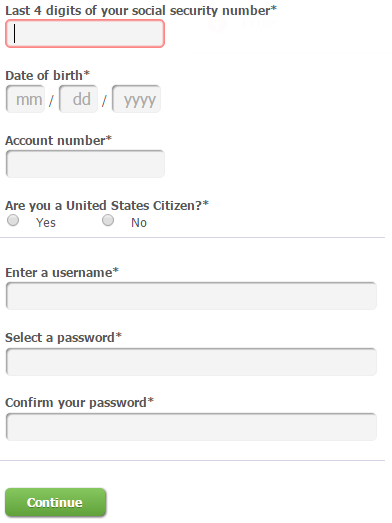 With your card activated and your account created, you will be well positioned to take full advantage of your brand new Visa. Good luck and happy banking!