If you are interested in wetlands conservation but are having trouble finding the time or resources to render effective change you may be interested in the Ducks Unlimited Visa Rewards Credit Card, a rewards credit card which claims to aid wetlands conservation efforts with each purchase. I have had trouble finding any information as to the particular nature of the donations, if that's what's even being implied. Be wary, there actually may not be any charitable function of this card. Anyway, should you want to proceed with an application you will find everything you need to know just below in an easy to follow step-by-step guide.
Please take a minute to review the First Bankcard privacy policy before submitting any information to their site.
Requirements
Applicants must:
Be at least 18 years of age
Have a valid US SSN
Have a valid US street address
How to Apply
Navigate to the FB card summary page and select the apply now link corresponding to the Ducks Unlimited Visa Rewards Credit Card (to the top right of the page).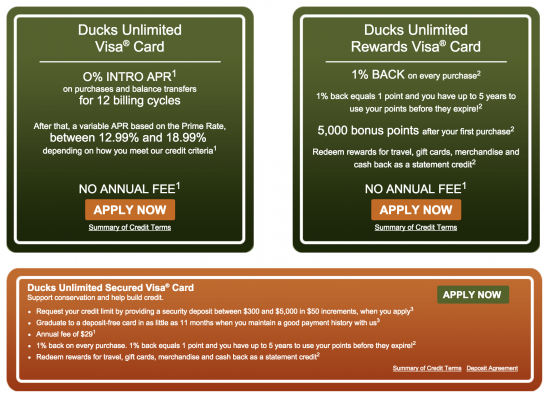 Step 1- Personal Information
Get things started by submitting the following data to the forms pertaining to your personal identity:
Full Name
Full Address
Phone Number
Email Address
Date of Birth
SSN
Mother's Maiden Name
Years at Address
Housing Status
Monthly Housing Payment
Present Employer
Business Phone #
Total Annual Income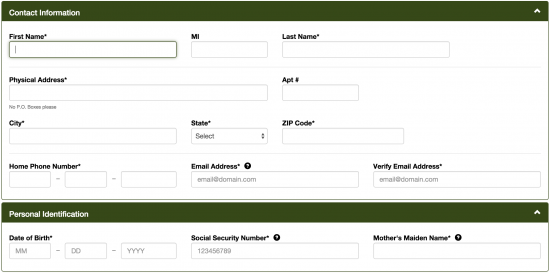 Step 2- Card Options
You may, if you choose, add an authorized user to this account. You also have the opportunity to select your preferred card art.
Step 3- Disclosures
Take a minute to review the terms and conditions of this card and, if you assent, submit the application for review.