If you consider yourself an adventurous spirit, have self diagnosed yourself with a case of wanderlust, consider life un-lived unless lived on the edge or if you travel a lot for business, you may want the First County Bank Travel Rewards Amex Card in your wallet. This credit option offers 3 points/ dollar spent on airline expenses, so whether its a flight to the remote jungles of Papua New Guinea or a trip home for thanksgiving in Cleveland, you can take advantage of this rewards program. Interested? Review our guide below and we'll walk you through the application forms.
First, review the privacy policy provided by Elan Financial Services (EFS) before continuing with the application forms.
How to Apply
The aforementioned forms are accessible through the Apply Now link found on the card summary page.

Step 1- Personal Information
The following data will be needed first:
First Name
Last Name
Date of Birth
SSN
Primary Phone Number
Mobile Phone Number
Email Address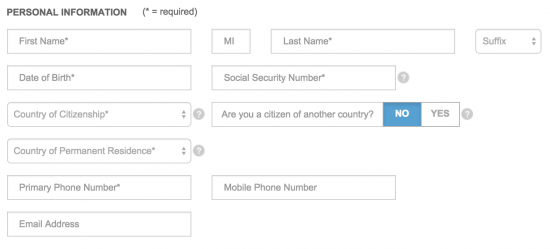 Step 2-Housing Information
Under housing information, supply the following:
Street Address
Apt #(if applicable)
City
State
Zip Code
Time at Address
Housing Status
Monthly Payment

Step 3-Financial Information
This information will be needed to access your credit worthiness:
Employment Status
Annual Income
Whether or not you have another source of income
Other income Amount (if applicable)
Other income Source (if applicable)
Hold another account with First County Bank? This is your opportunity to let them know.

Step 5- Additional Cards
You can add a joint application or authorized user here by clicking Yes and supplying the site with the necessary information following your selection.
The terms and conditions must be read, and they must be agreed upon, before you check off the box and Submit your application form to the fine staff at Elan Financial Services for processing.