Welcome to the official application guide for the First American Bank (FAB) Amex Travel Rewards Credit Card. This card will most likely be attractive to pre-existing FAB customers, however, if you find yourself in a position in which this card is a good bet for you please read on to access the guide and get your application underway.
Please take a minute to review the Elan Financial Services (EFS) online privacy policy before submitting any personal information to the application.
Requirements
You must meet the following requirements in order to apply:
Be at least eighteen (18) years of age
Have a valid US SSN
Have a valid US street address
How to Apply
Access the application by navigating to the EFS card summary page and select apply now in order to be redirected to the secure application.

Step 1- Personal Information
Submit the following personal data here:
First Name
Last Name
Date of Birth
SSN
Primary Phone Number
Mobile Phone Number
Email Address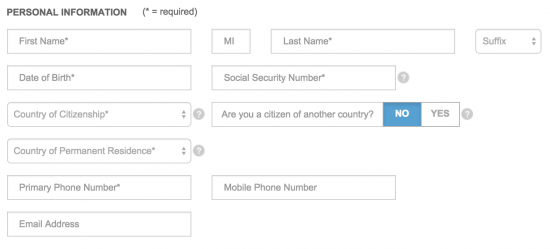 Step 2-Housing Information
Submit the following housing data here:
Street Address
Apt #(if applicable)
City
State
Zip Code
Time at Address
Housing Status
Monthly Payment

Step 3-Financial Information
Submit the following financial data here:
Employment Status
Annual Income
Whether or not you have another source of income
Other income Amount (if applicable)
Other income Source (if applicable)

Step 4- Other Accounts
Indicate which accounts, if any, you currently hold with FAB.

Step 5- Additional Cards
If you would like to add an authorized user you may do so at this point.

Step 6-Terms and Conditions
Please read over the terms and conditions and, if you agree fully, select submit to submit the application.