Those who do their banking with First County Bank and have a respectable credit score may want to consider the cash back benefits of the First County Bank Cash Rewards Amex. If you're a daily driver, they offer 3% cash back on the first $6000 spent on gas as well as 2% on groceries and 1% on everything else. The application process as well as the online banking are done through their secure card handler Elan Financial Services (EFS). so if you think that this might be the card that best fits your needs, scroll down and we'll walk you through the application forms.
The EFS online privacy policy should be reviewed before you continue with the entering of your personal information.
How to Apply
To get started with the application process, you'll first want to navigate to the card summary page on the EFS web site and clicking on the Apply Now link found beside the card icon.

Step 1- Personal Information
You will first need to enter in the following personal information:
First Name
Last Name
Date of Birth
SSN
Primary Phone Number
Mobile Phone Number
Email Address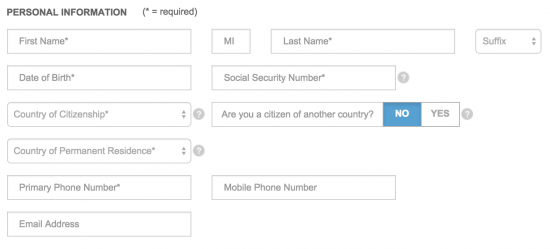 Step 2-Housing Information
Following personal information, you will need to provide this data:
Street Address
Apt #(if applicable)
City
State
Zip Code
Time at Address
Housing Status
Monthly Payment

Step 3-Financial Information
The financial information necessary will be as follows:
Employment Status
Annual Income
Whether or not you have another source of income
Other income Amount (if applicable)
Other income Source (if applicable)
If you have pre-existing accounts with First County Bank, select them at this point.

Step 5- Additional Cards
You will be presented with the opportunity to add a joint applicant or authorized user. In either case, enter in the necessary information into the supplied forms.
Once you've read the terms and conditions, check off the box that indicates that you've done so and accept before clicking Submit and sending your form in for assessment. Good luck!