Of the various credit cards available from Garden State Community Bank (GSCB), the GSCB Cash Back Credit Card has the most straightforward rewards program. With this card, cardholders enjoy a cash back rewards program of 1.5 points per dollar spent and are automatically issued a $25 statement credit whenever enough points have been accumulated. This means that, unlike with other rewards programs, users won't have to remember to redeem their rewards. Also, the points accumulated with this card never expire so cardholders don't need to worry about their points being wasted. There is no annual fee for this card, but the APR is quite high at 19.24%, so if you decide to acquire this card, it would be in your own best interest to stay up-to-date on your payments to avoid exorbitant interest costs (APR is subject to change). As a bonus, new cardholders receive a $50 credit if they spend $500 with their card within the first three billing periods from the opening date of their account. Would you like to apply for the GSCB Cash Back Credit Card? If so, feel free to scroll down and follow our online application tutorial below in which we provide instructions on how to complete the online application for this credit card.
This credit card is issued by First Bankcard. Before you continue, we recommend that you read their privacy policy to see how they may use your personal and financial information.
Requirements
Applicants must meet the following requirements to be eligible for this credit card:
Be at least 18 years of age
Have a valid SSN
Have a valid US mailing address
How to Apply
Step 1 – To start your application for the GSCB Cash Back Credit Card, navigate to the GSCB credit card page (by following this link) and scroll down the page until you find the Cash Back Card. Once you've found it, click the Apply Now link to be directed to the application form.

Step 2 – Now start filling out your application by entering the following Contact Information into the indicated fields:
Full name
Physical address (including city, state and ZIP code)
Home phone number
Email address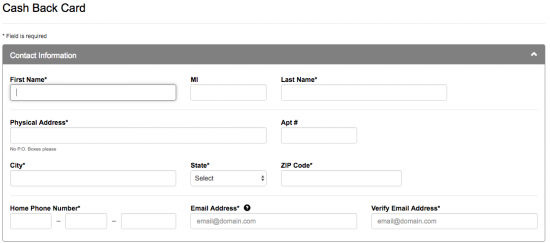 Step 3 – Next, you will be asked to supply all of the Personal and Housing Information listed below.
Date of birth
SSN
Mother's maiden name
Years at address
Housing status
Monthly housing payment

Step 4 – First Bankcard requires that you provide all of the following information into the appropriate spaces to help give them a better picture of your current financial situation:
Present employer
Business phone number (optional)
Total annual income
Checking account balance
Savings account balance
Investment account balance

Step 5 – If you wish to perform a Balance Transfer, you may do so here by clicking the Click here link and providing the necessary information. Next, if you would like to add an additional user to your account, enter their full name into the Authorized User section before proceeding to the next step by clicking Continue.

Step 6 – On the next page you will see a summary of your application. Look over the information that you have entered to make sure that it is correct. You can make necessary corrections by clicking the Change link at the bottom of the page. When you are finished, read the terms and conditions and, if you agree to the terms, check the I have read the Summary of Credit Terms box and click Submit to submit your completed application for review.

If you followed all of the steps detailed above, you have completed the application process and can expect a response from First Bankcard reasonably soon. We hope that you have found our guide to be helpful and thank you very much for visiting Card Reviews. Good luck!