Are you looking for a straightforward credit option that gives you all the advantages of owning a credit card without the hassle of dealing with a rewards program? The Garden State Community Bank (GSCB) Platinum Edition Card is one of the better credit cards offered by GSCB and, even though it doesn't have a rewards program, it still comes with a few notable perks. First of all, the APR for this credit card is quite competitive at an assigned rate of 10.24% to 18.24%, depending on what your credit score is (APR is subject to change). Secondly, there is no annual fee. Not only that, but if you successfully acquire this card, as a new cardholder you will enjoy a 0% APR for the first 12 billing cycles on balance transfers and a $25 statement credit after your first purchase (if made within the first 3 billing cycles). Scroll down and follow our credit card application guide to apply for the GSCB Platinum Edition Card today.
This credit card is issued by a third-party, First Bankcard. So before submitting your personal and financial information in your application, we recommend that you take a look at their privacy policy.
Requirements
Applicants must meet the following requirements to be eligible for this credit card:
Be at least 18 years of age
Have a valid SSN
Have a valid US mailing address
How to Apply
Step 1 – To start, navigate to the GSCB credit card page and click the Apply Now link next to the Platinum Edition Card option (pictured below).

Step 2 – Now begin filling out your application form by supplying the contact information listed below.
Full name
Physical address (including city, state and ZIP code)
Home phone number
Email address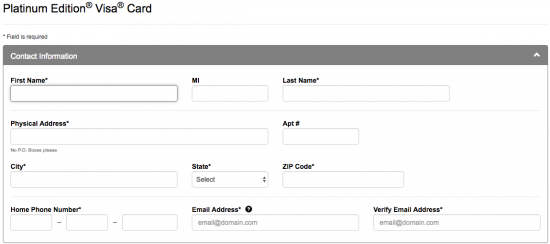 Step 3 – Next, you will be asked to provide the following personal and housing information where indicated:
Date of birth
SSN
Mother's maiden name
Years at address
Housing status
Monthly housing payment

Step 4 – At this juncture, First Bankcard requires that you provide them with the following employment and financial information:
Present employer
Business phone number (optional)
Total annual income
Checking account balance
Savings account balance
Investment account balance

Step 5 – If you wish to transfer the balance from an existing credit card to this new one, click the Click here link found beneath Balance Transfer and enter the following information:
Creditor name
Account number
Amount
Payment address (including city, state and ZIP code)


Step 6 – If you wish to add another authorized card holder, enter their full name here. When you are finished this and all the above steps, click Continue to proceed.

Step 7 – You have now completed filling out your information. Review everything you have entered on your application for accuracy and read the terms and conditions. When you are ready, if you agree to the terms of this credit card, check the little box below the disclaimer and click Submit to finish the application process.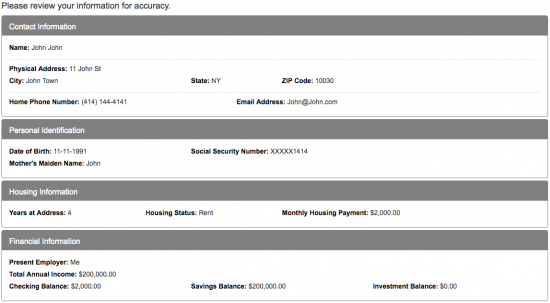 Your application is submitted! First Bankcard will review your application and send you a response relatively soon. We hope that our guide has made the application process a little easier and we thank you for visiting our website at CardReviews.org!