Offering low monthly payments and accepted at over 4,500 locations nationwide, the Goodyear Credit Card makes it easier to deal with the responsibilities of car ownership. If desired, you can apply for a card from the comfort of your own home.
Requirements
You are 18 years of age or older. (You must be 21 years of age or older in Puerto Rico.)
You can provide a valid Social Security number and photo ID number.
How to Apply
Step 1 – Visit the Goodyear Credit Card application page. Enter your email address. Type your first name, middle initial, and last name. Enter your home address.
Step 2 – Enter your home phone number. If desired, provide secondary phone numbers.
Enter your annual salary and wages from your job. Enter any other annual income you receive, such as rental income or retirement benefits.
Select own, rent, or other for your housing status. List your monthly mortgage or rent payment. (Enter $0 if you aren't paying rent or a mortgage.)
Enter your date of birth, Social Security number, and your driver's license or photo ID number.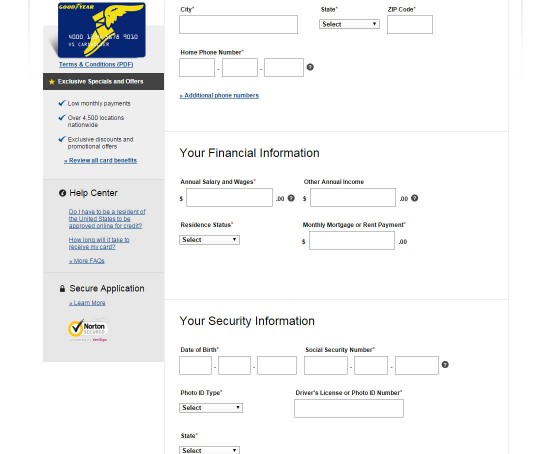 Step 3 – If desired, check the box to receive paperless account statements.
Check the two boxes confirming you accept the terms and conditions for the account after you've reviewed this information.
Click on the blue "Continue" button. You'll be asked to verify your application information before submitting it for processing.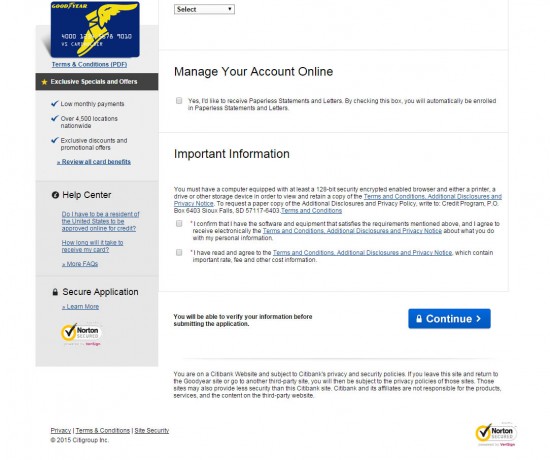 How-to Video
[youtube]http://youtu.be/8NN9OHK9Koc[/youtube]