If you're a Royals fan who's looking to acquire a new credit card, look no further than the Kansas City Royals Cash Rewards MasterCard. This credit option comes loaded with a number of benefits to entice the prospective cardholder. For example, the cash rewards program allows cardholders to earn back a small percentage of what they spend. For each $1 charged to the card, you can earn 3% back on gas for the first $2,500 in combined grocery/wholesale club/gas purchases each quarter, 2% back at eligible grocery stores, and 1% back on all other net purchases. An introductory 0% APR will be issued for all purchases made within the first 12 billing cycles. This introductory rate also applies to balance transfers made within the first 60 days of acquiring your card. When this rate expires, your APR for both balance transfers and net purchases will be between 13.24% and 23.24%, depending on your creditworthiness (APR is subject to change). If these features have piqued your interest, scroll down to our tutorial below to learn how you can apply.
Before submitting any sensitive information online, take a moment to review Bank of America's privacy policy.
Requirements
In order to be eligible for this card, the following requirements must be met:
You are at least 18 years of age
You at least 21 years of age if you are a permanent resident of Puerto Rico
You have a valid SSN
You reside in one of the approved US states or territories
How to Apply
Step 1- Navigate to this webpage to begin the application process for the Kansas City Royals Cash Rewards MasterCard. Once there, select the blue Apply Now link to proceed.

Step 2- On this page, use the Choose your card drop-down menu to indicate your desired MLB franchise. In this instance, we will be selecting Kansas City Royals from the list of available options.

Step 3- Here you should see a number of empty fields highlighted with an asterisk. Supply your First name, Last name, and your full address.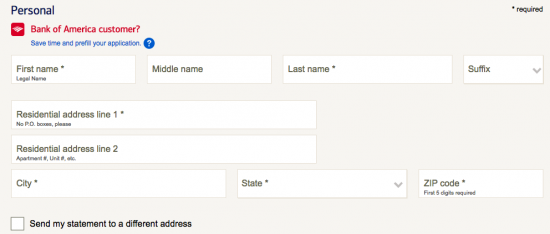 Step 4- Continue by entering-in your Primary phone number, Email address, Country of citizenship, Country of residence, and your Date of birth.

Step 5- Next, use the drop-down menus located under the Employment & finances heading to specify your Employment status and your current Occupation. Below that, enter-in your Total annual income and Monthly housing payment. Use the last two drop-down menus to specify your Source of income and your Liquid assets.
Students are asked to supply some additional information. If you're a student, indicate your student status by selecting either Part time or Full time. Before proceeding, use the drop-down menu to specify your Years in school.

Step 6- You should see the terms and conditions for this credit card at the bottom of your page. Take a moment to review these terms and, if you are in compliance with them, check the small box located underneath the terms and conditions window. Click Review your information when you are ready to continue.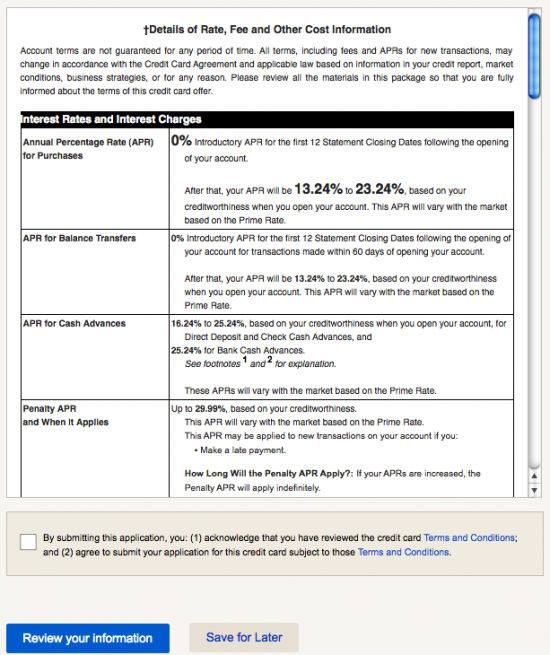 Step 7- All the data you've supplied is reviewable on this secondary page. Make sure that everything was entered correctly before clicking Submit to have your card request sent in for assessment.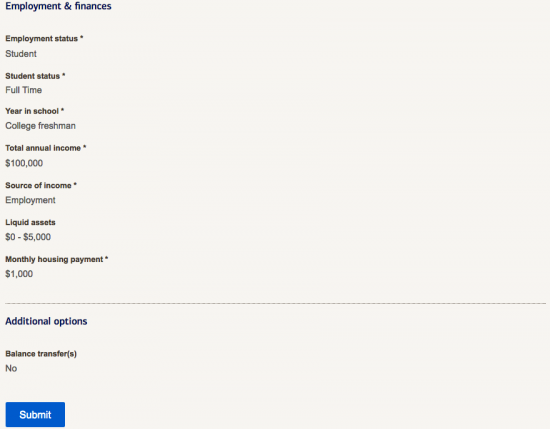 With each of the above steps completed, all you'll need to do now is await confirmation from Bank of America regarding the acceptance of your application. Hopefully this tutorial alleviated any confusion you may have experienced with the application process. Best of luck with your new credit card!