The online application process for the Los Angeles Angels Cash Rewards Mastercard is quick and easy. However, we have provided any interested parties with a guide to applying for this card below for all interested parties. Before applying, we hope you read over our quick review to learn more about the specifics of this particular credit option. First of all, there is no annual fee, and the interest rate varies widely from 13.24% to 23.24% as the APR is based upon your credit score. What this means, is that this card is a great choice for the responsible cardholder, but if your credit score and reliability is already bad, as with any card, using this card irresponsibly could prove to be costly. It is also worth mentioning here that for the first 12 billing periods, your APR will be set at 0%. As an additional signup bonus, you also can get $100 in cash rewards if you make $500 in purchases within the first 90 days of your account opening. As the name implies, cardholders will enjoy a cash rewards program; this will allow for 3% cash back on gas purchases, 2% cash back on grocery store purchases, and 1% cash back on all other purchases. Cash back rewards act as a rebate on your purchases so that you save money every time that you use your card. If you are interested in applying for the Los Angeles Angels Cash Rewards Mastercard, continue to our below tutorial to gain a full understanding of the process"
Before continuing, we recommend reading the privacy policy for Bank of America (the card-issuing company), so that you know more about how they use information submitted onto their site.
Requirements
To be eligible for this credit card, applicants must meet the following criteria:
Be 18 years of age or older
Have a valid US address
Have a valid US SSN
How to Apply
Step 1 – To access an application for this card online, you will first need to navigate to the MLB Credit Card summary page. Once there, click Apply Now to proceed to the next step.

Step 2 – On the subsequent page, first select Los Angeles Angels from the pull-down menu. Then scroll down the page to start filling your application form.

Step 3 – In your application you will need to enter all of the following personal contact information so that Bank of America can contact you and send you your card if your application is successful:
First name
Last name
Residential address
Apartment/Unit #
City
State
ZIP code
Other address (if applicable)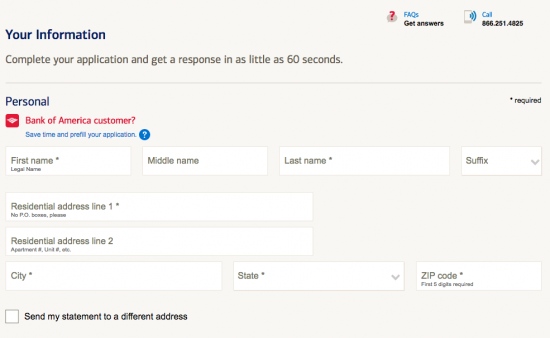 Step 4 – Now, enter the following additional personal and contact information in the indicated fields:
Primary phone number
Email address
Country of citizenship
Country of residence
Date of birth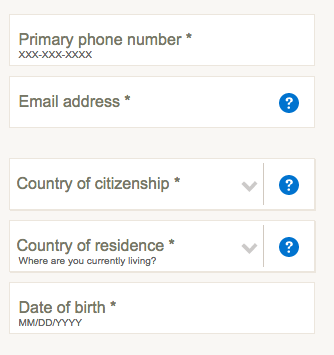 Step 5 – To finish providing all your requisite data, you must enter the following employment and financial information:
Employment status
Total annual income
Source of income
Liquid assets
Monthly housing payment

Step 6 – At this point, you should be finished filling out your application. As an option, you can consolidate existing credit card balances onto one bill in the Additional options section. Regardless of whether or not you plan on performing a balance transfer, you will need to read the terms and conditions and provide your consent to them. When this has been accomplished, click Review your information to look over your application, before clicking Submit.

Once all of the steps detailed above have been completed, your application should be submitted for approval. Thank you for visiting cardreviews.org, we hope that our guide has made the application process a little easier for you. Good luck!