"Go Rams, Go!" The Los Angeles Rams Extra Points Credit Card offers L.A. Rams fans a chance to rep their favorite team while reaping extra reward points on NFL-related purchases. You'll notice that the Rams logo is featured on the Los Angeles Rams Extra Points Credit Card, so every time you make a purchase with this card, you'll be showing the world what team you cheer for. The rewards program gives you 2 points per dollar spent on certain NFL-related purchases, such as NFL tickets and NFL store merchandise. It also provides you with 1 point per dollar spent on all other purchases. It's worth mentioning that unlike many other rewards programs, there is no limit to how many points you can accumulate, and your points never expire. The APR has a fairly wide adjustable range of three options from 15.24% to 25.24%, depending on what your credit score is (APR is subject to change). If you don't qualify for the lower APR, you could rapidly accrue interest on your balance if you are not responsible with paying off your balances. Keep this in consideration if you're considering applying. That being said, there is no annual fee for this card and there is an extra bonus of 10,000 points if you make $500 in purchases using your card within the first 90 days of your account opening. We have provided a guide on how to apply online for the Los Angeles Rams Extra Points Credit Card further down this page. Scroll down the page and follow our step-by-step tutorial to complete your application today.
Before filling out an application, read the privacy policy for Barclaycard (the card-issuing company) to ensure that you're comfortable with how they plan on using your personal information.
Requirements
To be eligible for this credit card, applicants must meet the following criteria:
Be 18 years of age or older
Have a valid US address
Have a valid US SSN
How to Apply
Step 1 – Go to the NFL Extra Points page and click the Apply Now link.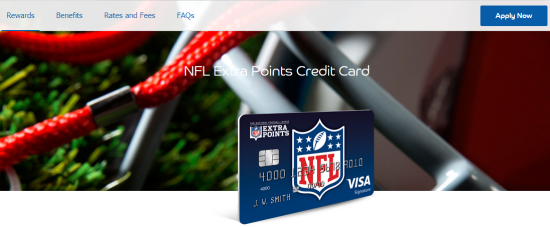 Step 2 – Select Los Angeles Rams from the drop down menu, as seen below, and click Apply Now to start your application.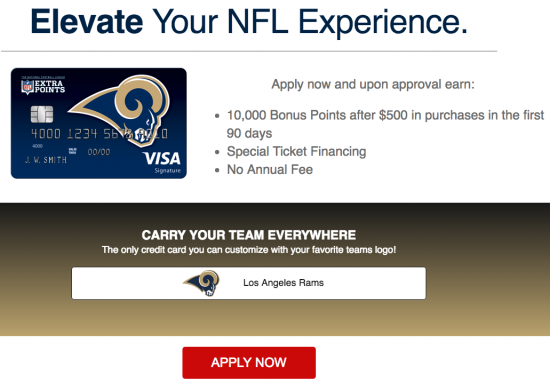 Step 3 – At this point, you should be on the application page for the Los Angeles Rams Extra Points Credit Card. Enter the information listed below in the General Information section:
Name
Permanent address
Time at permanent address
Residence status

Step 4 – Moving along to the next section, select your Occupation, enter your Total Annual Income, and select what types of bank accounts you have from the Do you have a: drop-down menu. Next, indicate Yes or No to whether or not you would like to receive your card by express delivery for an extra fee of $15.

Step 5 – Provide the following Contact Information, so that Barclaycard can contact you:
Primary phone number
Work phone number (optional)
Email address
Citizenship

Step 6 – In the fields shown below you must enter your Date of Birth, Social Security Number and Mother's Maiden Name in the Security Information section of your application.

Step 7 -At this juncture, you may choose a couple of different options (if none interest you, skip ahead). In the Paperless Statements section, you may enroll in paperless statements by ticking the box marked Yes, I want to receive Paperless Statements, and reading then agreeing to the disclosures. If you want to perform any Balance Transfers, click the blue Click here link.

Step 8 – Review the terms and conditions for the Los Angeles Rams Extra Points Credit Card, then click Apply to submit your application. You will get an immediate response from Barclaycard on the following page. Good luck getting you application approved! We hope that you have found our tutorial to be helpful and we wish you all the best.